Mindy Chateauvert doesn't do too well with labels.
The 49-year-old identifies as a "leather dyke" when asked about her BDSM orientation. But Chateauvert's involvement among D.C.'s leather scene has been mostly about defying labels.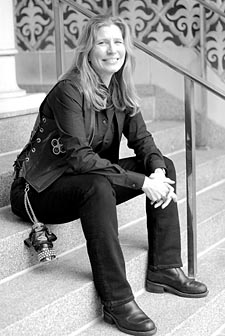 Mindy Chateauvert
Take for example her recent induction into the Centaur Motorcycle Club as the group's first full female member. In many ways, Chateauvert, an African-American studies and public policy professor at the University of Maryland, is just one of the boys.
"These guys have been really good friends to me, and I've worked with them on a lot of different projects [through groups such as Brother Help Thyself and the Rainbow History Project]," she says. "I think…a lot of people…automatically see people as male or female. But not everybody who looks like a biological female behaves like a girl."
A longtime advocate of sexual freedom, Chateauvert, who lives in Washington with her partner of 21 years, is passionate enough about the leather community to serve on the board of the 20-year-old Leather Archives & Museum, based out of Chicago.
"One of the reasons it was founded was because so many leathermen were dying of AIDS," Chateauvert explains. "A legacy of leather history was being thrown out with the trash by families that didn't understand what these guys were into and didn't understand their lives." With its collected material, the archives serves as a kind of memorial, one that Chateauvert concedes might be hard for young leather newbies to understand.
"People who are younger sometimes don't appreciate what it was like to be out and into leather in the 1960s."
To understand the new generation of leather enthusiasts, Chateauvert, who serves as a mentor to many youth across the country, says old timers have to "reject" labels.
"Maybe the message is less to the young as it is to the old folks," she says. "We have to be less regimented and strict in how we require other people to define themselves.
"The times are different, so those labels may apply to the 1960s. They may have applied to the Village People in the 1970s, they may have applied in the plague years of the '80s, but…now there's a lot of people who engage in practices that we once would have called outlaw practices. They don't see it as being wrong. They see it as [fun]."