Chris Grasso
It's impossible to be blasé the first time you walk around the host hotel or the grand, main performance space for the Centaur MC's Mid-Atlantic Leather Weekend. Men parading around only in jockstraps, others in obedience gear, from dog wear to gas masks, most in some get-up made of leather, from harnesses to butt-exposing chaps — all celebrating the sense of community that's developed, however improbably it may seem at first, around a leather lifestyle.
But stay awhile, or go again, and the message written on one popular T-shirt for sale at this year's Leather Exhibit Hall proved to be more than just cute: "It's only kinky the first time."
In fact, despite a few visible displays, there isn't much kinky about M.A.L., which the Centaur Motorcycle Club has produced for the past 24 years. The event, the second largest of its kind, attracts upwards of 2,000 people from all over the world. Eighty-five leather and fetish clubs were represented at this year's event, including the DC Bear Club, the Great North American Wolf Society and the Indiana Falcons.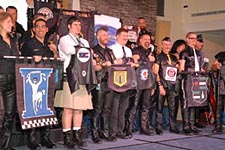 This year Mayor Adrian Fenty even issued a mayoral proclamation recognizing the weekend, the first in a decade. (Jim Graham has officially recognized the event in his capacity as a City Council member in previous years.)
"To me, it's like a family reunion," says Mike Kramer, a former Centaur who goes to the event every year. "I get to see friends who I don't see all year. I can't stress enough how much it's like a family reunion."
Chris Grasso, who won this year's Mr. M.A.L. Leather Contest, agrees. "Leather is more than just about sex," he says. "To me, it is like family, a lifestyle."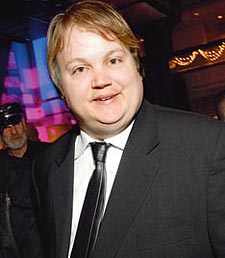 Chris Dyer
And it's a lifestyle open to everyone, far less intimidating than a novice might fear. "I was shocked at how nice people were," says M.A.L. co-chair Larry Barat of his first M.A.L. many years ago. "And I've heard that story countless times." Now a sixth-year Centaur, Barat says the weekend is about "creating an environment where people can come and be themselves."
You can even attend Saturday night's Leather Cocktails event at the Shriners' Almas Temple downtown in standard gay attire — T-shirt and jeans — and not feel unwelcome or out-of-place, even though it is essentially a "leather forM.A.L." event. Most of the 1,000 or so cocktailers dressed the part, though not Chris Dyer. At Leather Cocktails, Fenty's liaison to the gay community read the mayor's proclamation dressed in a suit. He did, however, sport a discreet leather tie.
"This is my first leather weekend. Sorry I wasn't prepared," Dyer said to the crowd after being introduced as "the only man here wearing underwear" by emcee Frank Nowicki, who then told the GLBT leader, "There's a jockstrap waiting for you backstage."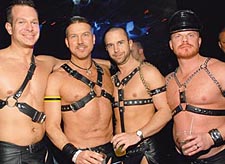 And certainly there were men wearing jockstraps at the event. More than just a decade ago, the lifestyle now incorporates more costuming and practices than just leather and BDSM (bondage, discipline, sadism and masochism). Part of this broadening definition is attributed to a newer generation, and to outreach to a newer generation. This year's theme, "Get In Gear," acknowledged a trend toward uniforms and sports and fetish gear. Images of athletes were scattered around Almas Temple just as there was a smattering of football players and other jocks scrimmaging at Leather Cocktails.
And then there was Santa Bear. Centaur member Dougie Gowin serves as the official Pentagon City Santa Claus each year, and this year he'll be attending both a national and an international Santa conference. He doesn't have to dress up much for that role: He has a long, white beard. "It's actually registered on the National Beard Registry," said Gowin. Yes, Virginia, there is such a registry.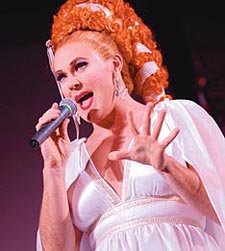 Varla Jean Merman
On the day of the Mr. M.A.L. Contest, Sunday, Jan. 20, Gowin paraded around as Santa Wrestler, wearing a bright red singlet with shoes to match. In that gear he proceeded to lead the volunteers as they dismantled the stage.
Drag artist Varla Jean Merman served as this year's headliner, entertaining the crowd as the judges deliberated about who should serve as Mr. M.A.L. 2008 among four contestants. A regular on the leather circuit, Merman had the crowd lapping up her raunchy stage banter and saucy numbers. She performed a song about "dripping with pearls" — sample lyric: "Baby I won't rest until you put one on my chest" — and aired a video spoof of Faith Hill's hit, "Breathe," in which Merman plays a woman abused by her chain-smoking man's polluted air.
After Merman's amusing antics, Gary Samuels spoke eloquently in his "step-aside speech" about his work over the past year as Mr. M.A.L. 2007.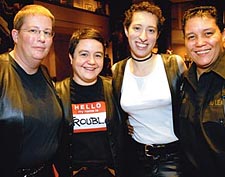 "This year I learned the beauty of brotherhood," he said. Having focused on attracting and mentoring the leather community's next generation, Samuels choked up a bit as he related the story of one young man who told Samuels his work inspired him to compete in the Mr. M.A.L. contest next year.
"Being a part of the leather community is nothing short of a great adventure for me," said this year's Mr. M.A.L. first runner-up Karl Hornberger. "I seek out ways to continue fostering the strong sense of camaraderie that the leather community has instilled in me." As first runner-up, Hornberger was awarded a leather-ball gag as one of his many gifts from M.A.L. sponsors.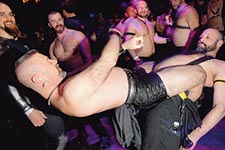 The camaraderie Hornberger attributes to the leather community is certainly fostered by the three full days of adventure that M.A.L. offers to veterans and novices alike. From the wild (but also mild) things to see all weekend at the Leather Exhibit Hall and the hosting Washington Plaza Hotel, to the weekend's full slate of entertainment, including the Recon fetish party at Apex and the Leather Reaction Dance at the 9:30 Club, to the fraternity-like atmosphere of the official events at Almas Temple, M.A.L. 2008 offered at least a little something for everyone.
Cocktail in hand at Saturday night's leather social, Vern Stewart, a former Centaur and veteran leather-circuit traveler, summed up the experience with a broad grin: "I'm just watching the world go by."