Lawmakers in Maryland finalized a definition for "domestic partner" last week to comply with a state law passed last year that requires insurance companies in the state to be inclusive to domestic partners.
A joint House-Senate committee defined "domestic partner" as an individual in a relationship with another individual of the same residence of either opposite or same gender, over the age of 18, non-related and in a committed relationship with the other party for over six months.
And while the definition may have appeared on the surface as a victorious step towards same-sex marriage acceptance among lawmakers in Maryland, Carrie Evans, director of policy and planning at Equality Maryland, says the definition means "absolutely nothing."
"It's been fascinating to see it being made into a big deal," she says of media coverage, "but it's not."
A bill passed last year, allowing employees in Maryland to ask for insurance policies for children up to the age of 25 as well as for domestic partners, was awaiting definition of "domestic partner" from the Maryland Insurance Administration prior to implementation.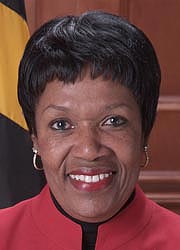 Gwendolyn Britt from msa.md.gov site
"That's all it was," Evans says. "Regulations to implement that law, and the people who are fighting this as a big deal…really just wanted to get the juices flowing already [against same-sex marriage]," noting that a marriage equality bill is slated for introduction this week.
The Religious Freedom and Civil Marriage Protection Act, which was sponsored by the late state Sen. Gwendolyn T. Britt (D-Prince George's County) in the Maryland Senate, along with Del. Victor R. Ramirez (D-Prince George's County) and Del. Benjamin S. Barnes (D-Anne Arundel and Prince George's County) in the Maryland House of Delegates, would allow any two unrelated adults to legally wed. In addition, it would allow churches in the state the right to marry any two individuals, including same-sex couples.
Activists were saddened by the unexpected death of Britt on Saturday, Jan. 12, at Doctors Community Hospital in Lanham. She was 66. She died of heart failure.
Britt was a civil-rights activist who, in the '60s, was arrested and jailed on more than one occasion for breaking Jim Crow segregation laws. She was celebrated by Equality Maryland for taking the Senate lead on Maryland's marriage bill.
"She was the real deal," said Dan Furmansky, executive director of Equality Maryland. "When she sang 'We Shall Overcome' at Equality Maryland events, it was [recalling] a time when she was struggling to be treated as a human being worthy of sitting at a lunch counter or drinking from a water fountain.
"This is a devastating loss, but civil rights struggles are greater than any one person, and as our fight for equality in Maryland continues, her spirit will be with us."
Evans echoed those sentiments.
"Sen. Britt would not want us to stop our quest," she said. "That is clear in her life and her convictions, so we definitely want to walk that fine line of mourning our dear friend, but also moving forward on her piece of legislation."