Nearly 30 years to the day of the Whitman-Walker Clinic being officially chartered — Jan. 13, 1978 — the clinic held a press conference. The buzz and speculation came to a head the morning of Jan. 10, with TV news vans parked outside the clinic's Lesbian Services Program building at 1810 14th St. NW, community press taking their seats inside with notepads at the ready. Granted, this was a far cry from the sort of crowd one would see at a White House press briefing, but the roughly half dozen news people on hand Jan. 10 was a substantial showing for a WWC press conference. So what was all the fuss?
"I'm pleased to announce our 2008 priorities to fulfill our vision as the region's preeminent community health center treating the LGBT community and people living with HIV/AIDS," began Donald Blanchon, the clinic's CEO for the past 18 months. Blanchon went on to outline a laundry list of plans divided among five major areas: clinical care, financial management, HIV prevention, operations and strategic issues.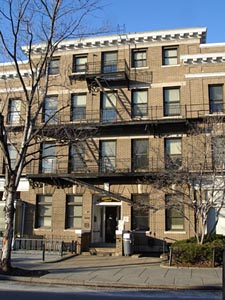 Whitman-Walker Clinic at 14th and S Streets
Blanchon was not going to be dropping any bombshells. The coverage to follow made that clear, in that different outlets took different angles. Some reported on the clinic's real-estate holdings, some examined staff restructuring or Capital Pride. There was news of the clinic's newly installed electronic medical records, a crystal-meth addiction initiative for gay men, and outreach to straight African-American women. There was, it seemed, a little something for everyone.
While there was no earth-shaking announcement from the clinic, Blanchon told Metro Weekly in an interview last Friday, that he's pleased with the coverage that came out of it and advises that the community can expect similar meetings in the future — yet another component to the clinic's 2008 priorities.
"We knew that changes around restructuring the staff, changes around the electronic health record, the announcement of a new chief medical officer, all of those things are significant changes. We felt we needed to package those things together so that people would understand the context of each one of the individual changes," Blanchon explained. "We'd like to do something on a quarterly basis. It's really important because some of this work takes a little bit of time and we want to be able to demonstrate that we've made improvements or made strides."
One of the meatier bits to come out of the press conference was news of layoffs. While figures were ambiguous Jan. 10, Blanchon now has something more definitive to offer.
"There are gross numbers and net numbers," he explained, stressing that here, too, there is a need for context. "The restructuring ended up affecting 57 individuals, gross. We realigned, repositioned, 10 of those individuals. We are announcing the hiring of an additional 20 positions."
So while the clinic will be 27 people fewer — out of a previously fulltime staff of 220 — Blanchon said the real news is in the areas of hiring.
"The 20 new positions are extremely important. They are positions that will be direct health providers, or support in the provision of care. We're looking to hire an [obstetrican/gynecologist] to help us better serve lesbians and other women who come to the clinic. We're looking to hire a [pharmacist] to do HIV-medication adherence. We are looking to hire additional community health educators in our efforts around Project R.E.D. to get our HIV-prevention message out. You'll see a lot of those positions are really focused on health care."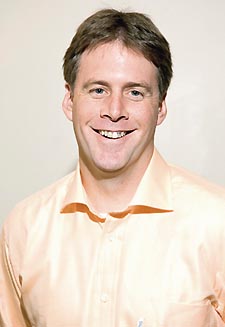 Blanchon
File photo by Todd Franson
Beyond health care, the GLBT community may have particular interest in Capital Pride, which is managed by the clinic, though possibly only for the next two years. Though the annual festival wasn't mentioned at the Jan. 10 press conference, ReGina Newkirk, Whitman-Walker's director of development, says that clinic's request for proposals by entities interested in taking over Capital Pride closes Friday, Jan. 25.
"We will make a decision announcement no later than March 14," she said, acknowledging that there is a possibility that the clinic's board of directors may not find any proposal acceptable. "What we have stated is that we want to evolve from our current role, as legal and fiscal agent, after Capital Pride 2009. If someone has the ability to pick up some of the responsibility this year, to slowly get into it, that's a possibility. If somebody wants to take it over next year, that's also open. Or if they want us to totally do it this year and next year and then immediately after that they want to pick it up, that's fine. Again, we want to see what's going to work best for that organization and make sure their proposal will work. We've got a lot of flexibility around it."
"We want whoever ultimately produces this event to be successful in producing Pride," added Blanchon. "We are not in any way, shape or form looking — and I want to be very clear — we are not looking to off-load, dump, or do anything of that nature with Capital Pride. We really believe that it has a place in the LGBT community and that we should be extremely supportive of that."
As for other community events or fundraisers the clinic sponsors, such as AIDS Walk or Art for Life, they'll remain right where they are, Blanchon insists. And while Blanchon promises that the Jan. 10 press conference was a sort of tool he plans to employ on a quarterly basis to keep the community abreast of the clinic's progress, he seems to have a tight grasp on the end goal, for how all the varying components will eventually come together.
"I see us as a clinic, 10 to 15 years from now, really being looked at as a beacon for health care for the LGBT community and people living with HIV," said Blanchon, who grew up just outside Boston. "If you look at an organization like Fenway [Community] Health up in Boston — it's the model I'm not necessarily saying we're replicating here in D.C., because the community here can be somewhat different than the community in Boston for a whole host of reasons — that organization has been extremely successful as an organization focused on the health of the LGBT community, on the health of people living with HIV, and on the health of the neighborhood.
"Without a copycat mentality of, 'Oh, we want to execute that,' or a model like Chase Brexton [Health Services] in Baltimore, it's that model of health that I see us pursuing. Those are two great organizations that have long-standing commitments to the LGBT community that have evolved over the years to be responsive to the needs of those local communities."