DJ Oren Nizri will make his D.C. debut next week, but chances are you've already heard his deck-work. Nizri's recorded sets as resident DJ at Halo Miami are a staple at the D.C. branch on P Street.
"That's the music we play now after 11 p.m. on weekends," says Halo owner Babak Movahedi. Come next Thursday and Friday, Feb. 7 and 8, Nizri will spin from Halo's underused DJ booth in an experiment to see if having live DJs will sway the crowd these days. "Traditional DJs didn't quite work for us," says Movahedi. "But Oren plays high-energy lounge music, which we felt we'd like to introduce to D.C."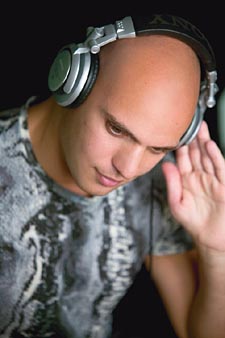 DJ Oren Nizri
A successful radio DJ in his native Israel, the 30-year-old Nizri moved to Miami about five years ago. He's now a staple at lounges and boutique clubs in that resort hot spot. "I spin a lot of sexy European funky house," says Nizri. "My style is very energetic and soaring." He cites house legends David Morales and Frankie Knuckles as his biggest influences, along with Chris Cox and Nizri's compatriot Offer Nissim.
Nizri became a resident DJ at Halo Miami soon after the venue opened last summer, before which he says, "There was nothing like that in South Beach in the gay scene."
Having Nizri spin is just the first of several changes to come at Halo, going on four years in business. In addition to redoing the second floor and adding more drink specials and promotions, the bar will also launch a weekly Sunday night event produced by the couple behind the holiday-Sunday dance party Calor. Bahia Productions' Lorenzo DeAlmeida says his aim with the new event, to be christened Pyro, is to give D.C. "a new hot spot to go to on Sundays again," reminiscent of the old Lizard Lounge — including no cover. DJ George K will kick-off the first Pyro party Feb. 24.
Movahedi, who became sole owner of the lounge last summer, sees 2008 as "a new beginning for Halo." And Nizri is happy to play a part. Says Movahedi: "You can expect to experience a different sound that hopefully will refresh and uplift the crowd."
DJ Oren Nizri will spin from 8 p.m. to close on Thursday, Feb. 7, and Friday, Feb. 8, at Halo, 1435 P St. NW. (The bar will host a fundraiser for the Gay American Heroes Foundation from 8-10pm on Feb. 7.) No cover. Visit www.halodc.com for more details.