It's hard to say what Theater J audiences will carry away with them after seeing Judy Gold perform 25 Questions for a Jewish Mother (





), the one-woman show she wrote with award-winning playwright Kate Moira Ryan.
For some it will be the image of a young Judith sitting with her mother reading from the pop-up edition of The Diary of Anne Frank ("…in spite of everything I still believe that people are really good at heart." "PULL THE TAB JUDITH!"). For others it will be the image of the 6-foot-3, kosher, lesbian, mother-of-two as a 6-foot, Kosher, lesbian teenager, hiding in her room waiting for the return of her real mother, Barbra Streisand.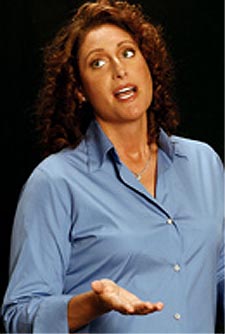 Judy Gold
And still for others it will be the surgically placed moments of silence, set like precious stones in a piece of jewelry, where the scarcity of space that exists between laughter and tears becomes sharply evident.
In the show Gold explains that it was her own motherhood, and her desire to be "something more than a secondary character in a Philip Roth novel," that inspired her to team with Ryan to try and decipher what — if anything — separates the Jewish mother from her non-Jewish counterpart.
They interviewed 50 Jewish mothers from a variety of backgrounds and experiences from all across the country. They asked them questions like, "Who do little Jewish girls get to look up to?" and "If your child married a non-Jew would you sit shiva?" and "What is God to you?"
Gold relates some of their responses through a series of monologues, each joined to the next by scenes from the comic's relationship with her own mother. The woman she most fears becoming.
Through Feb. 24 at Theater J, in the DCJCC, 16th & Q Streets NW. Tickets are $15-$50. Call 80-494-TIXS or visit
www.theaterj.org
.
25 QUESTIONS
FOR A JEWISH MOTHER
To Feb. 24
Theater J
DCJCC
16th & Q Streets NW
$15-$50
1-800-494-TIXS
www.theaterj.org
Gold gives great dignity to the women she interviewed. She affects the voices and distinct postures of these women with great humor, but never falls into buffoonery or mockery. There is a stunning skill and talent at work here, and a great understanding of where that razor edge lies. Far from being a series of caricatures, this is a lovely gallery of portraits.
The sincerity with which the Gold and Ryan approached their task is evident. 25 Questions for a Jewish Mother is a funny, moving, carefully crafted piece of theater that resonates with the warm affection the two obviously felt for the mothers with whom they spent their time. Go see it.
But first, call your mother.