As surreal experiences go, Martin Moran has one that's hard to beat. He's the author of The Tricky Part — first a Lambda Literary Award-winning autobiographical book, and now an Obie Award-winning play — which deals graphically with a sexual relationship he had with a man when he was barely an adolescent, and all the emotional turmoil that followed for years after. Moran is usually the star of his show, but he says he did once see it performed. That was in South Africa.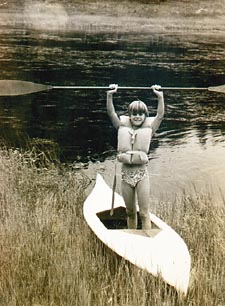 "It was bizarre, jarring," he remembers, explaining how his story of forgiveness, ultimately, was seen as something of a metaphor for a country grappling with reconciliation after decades of apartheid rule. "Is forgiveness the deepest gift we can give ourselves? In South Africa, this odd little American play seemed to incite all this discussion."
Washington audiences will have their own opportunity to see Moran tell his tale, as The Tricky Part is making its local debut at Signature Theatre. For those who have read the book, Moran — a self-described "hambone" song-and-dance man, recently offering his talents to the goofy Monty Python's Spamalot on Broadway — says you may find the play a bit more accessible.
"It's a very different experience," he says. "The play is 30 pages, the book is 300. There's a lot of levity in the play. You've got a guy standing in front of you, the lightness of presentation."
The core of either version, however, remains the same.
"Is it possible what harms us might come to restore us?" says Moran. "It's not just this narrative. It's really about complexity and letting go of what we see as damage. We're in the present, we're trying to move on."
And he offers a special invitation to his gay community: "Come hear a tender and hysterical coming-of-age story. And have a drink after."
The Tricky Part runs through Feb. 17 at Signature's ARK Theatre, 4200 Campbell Ave., Arlington. Tickets are $40. Call 703-820-9771 or visit www.signature-theatre.org.