Before there was Amy Winehouse, there was Sharon Jones. In fact, Winehouse plays the mistress to Ms. Jones. That Mr. Jones Winehouse sings about in song? It might as well be the men in Jones' backing band, the Dap-Kings.
The Dap-Kings, you see, put the kick in Winehouse's song "Rehab" — after you account for Winehouse's own tart lyrics, of course. The band actually performed the music on that recording as well as half of the rest of Winehouse's Back to Black album besides. They also backed Winehouse on tour last year. Those alternately lumbering then punchy horns? The buzz in her step (and not the one in her hair)? All courtesy of the Brooklyn-based multi-racial Dap-Kings ensemble.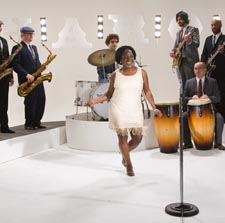 Digital Free Zone: Jones
So Sharon Jones, who did not record or perform with Winehouse, has every right to feel hurt, even upset. "Once I had a good man, once a good man, he had me," she sings on 100 Days, 100 Nights (



). But one day that good man, who was even "a happy, do-right good man," up and left her. How does she feel? No sweat off her back. She pledges to, as the song title has it, "Keep on Looking" until she finds true love again.
The Dap-Kings, after all, are still with her, seven years after forming. They never left, no more than she left them to sing backing vocals on Rufus Wainwright's Release The Stars album last year, or on They Might Be Giants' The Else. Or to appear in the Oprah Winfrey-produced, Denzel Washington-directed The Great Debaters. Clearly, side projects are a way to sustain this relationship — and I didn't even mention Robbie Williams and Lily Allen and so many others.
The only surprise is how unknown the act remains to the public. It must have something to do with the unreconstructed soul and funk on display. Though digital technology enhanced pretty much all of the work on those famous side projects — which generally sound both retro and modern — Sharon Jones & the Dap-Kings stick strictly to analog recording for their own productions. As with the act's two previous albums, 100 Days, 100 Nights — released with little notice late last year — sounds like it came straight out of the early 1970s. It looks like it, too: Every aspect of the production, from the cover to the font to the album label itself, is retrograde. Everything, of course, except for the fact that it's chiefly for sale in CD and digital formats, and the CD comes with a bonus video.
Advertisement

| | | |
| --- | --- | --- |
| Sharon Jones: 100 Days, 100 Nights | Sharon Jones: Dap Dippin' | Sharon Jones: Naturally |
At the time this must have been at least slightly edgy, but today the sound and the lyrical content are both so tame as to appeal to almost everyone, of every age and background, giving no offense whatsoever. There's no menacing hip-hop influence and no vulgar language about "fuckery" or even merely "rehab" to rile parents and children. "Tell Me," for example, features Jones and a girl group called the Gospel Queens calling on a man to say he loves her. "I'm not asking for much, three little words you know." It sounds like a moodier reprise of Martha Reeves & The Vandellas' "Nowhere to Run." Yep, that old.
Still, while consumers of contemporary pop and R&B might wish for spicier lyrics or nastier beats, this remains an act worth getting to know on its own terms. Jones, 51, was born in Augusta, Ga., hometown of the late Godfather of Soul himself, James Brown — and Brown's influence is unmistakable just as his sound is proving to be timeless. Jones counsels a man to "Be Easy" in pursuit of a lover — and when the sermon is drenched in this much head-nodding, hip-swaying, sweaty funk, easy it is. Even more so when the preacher is this captivating: Jones has a gorgeous and powerful vocal instrument and she knows how to use it for maximum effect, just like the soul greats that came before her.
No wonder Jones isn't too worried about the mistress in her men's lives. When it comes to singing, Winehouse is no match. She's not nearly as good.
From YouTube: Sharon Jones: 100 Days, 100 Nights