Life has changed for local singer-songwriter Tom Goss since he appeared suggestively nude on the cover of his debut album Naked Without in 2006. The self-taught, guitar-playing native of Kenosha, Wis., who originally came to Washington in the summer of 2004 to become a priest, has instead fallen further into love with his long-term partner, Mike.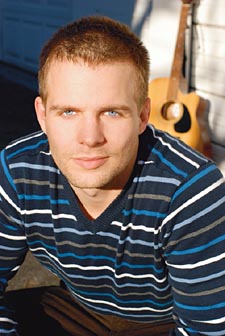 Tom Goss
"I didn't used to write love songs, but I can't avoid it these days," Goss, 26, says of tracks that appear on his latest effort, Rise, released Jan. 8 and available at www.tomgossmusic.com. This time around, Goss swapped quantity with quality, releasing fewer tracks produced at higher quality.
That's not to say fewer tracks make for an overnight effort. Goss has been working on Rise for several months. And if you are a regular at Metro's Dupont Circle stop, you might have spotted him rising up the station's escalator over and over again during the album's photo shoot. This is a man who takes his album covers very seriously.
"If you think about rising and what kind of images you can come up with, [a Metro escalator] to me seemed like the best," says Goss. "It's just so dramatic — from the darkness to the light. It's just beautiful."
That describes Goss' own journey since surviving the year and a half he spent at a seminary in D.C. as an aspiring priest, a topic he's reluctant to discuss in detail.
"It just wasn't where I belonged," Goss says of the internal conflict he encountered as a gay man in a place where he felt discrimination. Still, the experience didn't destroy his faith — he remains spiritual, noting that "spirituality is having a sense that there's something beyond you, and religion is adhering that to a specific set of rules."
And while Goss has turned his music into love, he's turned his spirituality into compassion, having launched a church-based program to aid homeless Washingtonians.
Advertisement

| | | |
| --- | --- | --- |
| Radiohead: In Rainbows | Tom Goss: Naked Without | Cheryl Crow: Detours |