There are those in the theater who will tell you that their ultimate goal is to transport the audience. They will say the greatest success they can achieve is to inspire the complete abandonment of reality. To move a theater full of individuals who trundle through daily lives — lives in which cats don't sing and barbers are not murderous — to leap to their feet clapping their hands and shouting that they believe in fairies and witches-in-training and little orphan girls with loyal, sandy-colored dogs.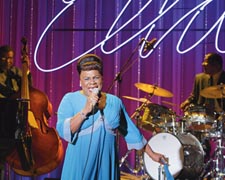 Is it real, or is it Memorex? Fabrique
But is there ever a time where the false front is so lovely, so perfectly enchanting, that the illusion of what is occurring on the stage becomes too real? Can a performance be too good for its own good?
It's a question that arises when considering Arena Stage's production of Ella, a musical — of a sort.
Featuring the wonderfully talented Tina Fabrique, who originally created the show's title role in the world premiere at TheaterWorks in Hartford, Conn., Ella transforms Arena's new temporary home in Crystal City to a concert hall in Nice, France, where Ms. Fitzgerald (Fabrique) and her four band members are preparing for a show.
As envisioned by Jeffrey Hatcher, Dyke Garrison and Rob Ruggiero (who also directed), the rehearsal and subsequent performance become a setting through which the notoriously private "First Lady of Song" is able to unspool the events of her life, punctuating the twists and turns with works from some of America's greatest songbooks. Song and story don't meld seamlessly together, as they do in more traditionally crafted musicals, but they at least rest comfortably side-by-side. Ella's story becomes the patter between numbers.
Fans of the work of Hoagie Carmichael, Irving Berlin and George and Ira Gershwin will hardly believe their good fortune. Fabrique, recently seen in Arena's world premiere of The Women of Brewster Place, is a gifted vocalist with an enigmatic and natural stage presence. The experience of watching her perform is very much like an evening spent at a fabulous cabaret performance.
Gracefully lit chiffon draperies and yards of metal chain gleaming like diamonds warm the anonymous theater space into an intimate club. The transformation is impressive not only for the simplicity of its gestures, but for its completeness.
And that's what feels a bit unsettling about the show.
While there is a story at work, a plot threading its way through all the horn and bass lines, it ultimately feels far less substantial than the music. With Fabrique's voice and the sizeable musical chops of the band, it's easy to lose sight of the fact that Ella is meant to be a musical about the great singer as opposed to an evening spent with a modern performer recreating one of her performances. (Think Rufus Wainwright bringing Judy Garland back to Carnegie Hall.)
So while it speaks highly of the cast and crew that the audience is able to slip quite completely into the world the show wants to create, Ella, as a musical, feels vague, ephemeral and loosely finished. The story seems more an excuse for an evening of wonderful musicianship than the reason for it. You won't feel disappointed leaving the new Arena Stage, but you might find yourself wondering exactly where it is you've been.
---
In just a few weeks, The Studio Theatre will be celebrating its 30th anniversary, but it seems the party has already started.
Concerned, perhaps, that area theatergoers will begin to think that this grand dame of the area scene might begin to show her age, become respectable and take up bridge or some such thing, Studio has decided to take in The Foundry Theatre's rough-edged The Brothers Size, a heart-and-drum pounding modern drama that draws shape and influence from traditional Yoruba storytelling. It is arresting in its subject matter and vibrant in its performance.
Staged with just three actors and a percussionist, the play blends song, step and movement to tell the story of two siblings — Ogun (Gilbert Owuor) and Oshoosi (Brian Tyree Henry) — in the bayou town of San Pere, La. Recently released from prison, Oshoosi finds himself struggling to balance his relationship with his brother and his friendship with Elegba (Elliot Villar), the man with whom he served his sentence.
Playwright Tarell Alvin McCraney has crafted a work that manages to be both raw in its emotion and polished in its sophisticated blending of narrative styles. This is a punishing work of theater that leaves no room for hesitation or misstep.
Henry, Owuor and Villar work in complete synchronicity with one another, each actor bringing a unique and powerful instrument to the stage. Henry's voice is the kind that pours out over an audience like gently warmed molasses, while Villar's sense of physicality gives his movements the feel of modern dance.
Owuor brings a humanity to the stage, moving emotionally from a summer breeze to a full-force hurricane. Together with percussionist Shaun Kelly they succeed in bringing The Brothers Size loudly, brilliantly and fully to life.