Darius Cooke no longer sleeps in the bed he once shared with Keith Jamar Truesdale, his partner of nearly two years. Until he moves out of their Woodbridge, Va., apartment, Cooke says he'll be sleeping on the living room couch.
It's not a situation Cooke, 21, could have predicted just a week and a half ago when he and Truesdale, 23, were finalizing plans to move into a new "rent-to-own" townhouse. Just nine months ago, they exchanged commitment rings marking their one-year anniversary.
A single bullet was all it took to obliterate this young couple's happy dreams for the future.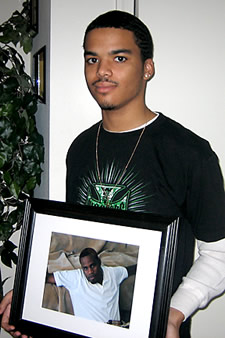 Darius Cooke with photo of Keith Jamar Truesdale
(Photo by Yusef Najafi)
It was Jan. 22 and Truesdale was managing the Popeye's Chicken & Biscuits restaurant in Woodbridge. It was not the Dale City, Va., outlet where he usually worked. He was just helping out, filling in.
Cooke saw Truesdale for the last time that day as he stopped by the restaurant to collect some of the paperwork needed for their upcoming move. After running some errands in the neighborhood, fate allowed Cooke to be in an adjacent bank parking lot as Truesdale took a break. He walked over and surprised Cooke.
"Damn, you're still here?" Truesdale teased. "You got everything you need?"
That was followed by a casual goodbye and Cooke's reply: "I'll see you at home then." It would be the last words they would exchange, the last time they would see each other.
Truesdale was due home around 11 p.m., but he didn't show. Cooke remembers making phone calls to Truesdale's cell phone. He lost count of how many. As the hours passed, panic set in. By 3 a.m., with still no word, Cooke says he couldn't sit still.
"Just as I was putting on my sweatpants to leave, I heard the phone ring," he says. "It went to voice mail and it was just this strange noise — hollering and laughing on my answering machine."
As he walked to the answering machine, Cooke realized he hadn't heard laughter, but hysteria. The distressed voice breaking the silence in the living room that the couple often cuddled in while watching Truesdale's beloved Law & Order was Truesdale's mother, screaming and crying for her son. She had heard the news that at that moment was unimaginable to Cooke.
"He's dead, he's dead," Cooke recalls her repeating on that call from New York. "The police called me and told me my baby's dead!"
"What are you talking about?" Cooke replied in disbelief on the phone. "No he's not! I'm going to go get him and I'll call you back."
Cooke sped from the house, frightened and confused. As his car approached the Popeye's parking lot, a little less than five miles away from the couple's apartment, disbelief gave way to cruel reality. Blue and red flashing lights blinded Cooke until he was close enough to see the only car in the parking lot aside from his and the police was Truesdale's.
Cooke says that's when everything started moving in slow motion, when everything changed.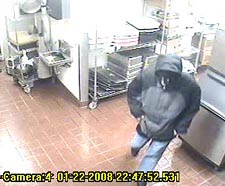 Photo from Popeye's camera of gunman
Cooke learned that Truesdale was caught in the middle of a robbery involving two men, one brandishing a knife, the other a gun, demanding he open the store's safe. Not the regular manager, it's likely he didn't have that combination memorized. Truesdale was fatally shot and died at Potomac Hospital around 11 p.m.
Nearly one week after the incident, Cooke says he has yet to hear from police or the management at Popeye's.
"We haven't heard anything," he says. "[Popeye's] said they were going to have a little memorial for him. It never happened."
A statement issued last week by the corporate office of Popeye's, the Atlanta-based AFC Enterprises Inc., reads in part, "The Popeye's family is devastated by this situation: our deepest sympathies go out to the family of Mr. Truesdale."
Truesdale's body was transported to New York City, where a funeral service was scheduled for Tuesday, Jan. 29. While Cooke said he wasn't included in making the arrangements, he planned on attending the ceremony.
"I thought we were going to be together for a long time," he says. "I felt like we built so much together. Most couples our age don't have close to what we had."
The gunman, who was dressed in black, was described as a light-complexioned black male, 18-22 years old, 5'9" and 140 pounds. The second man, also wearing black, has been described as a light-complexioned black male, 18-22 years old, 5"7" and 135 pounds. The Prince William County Police Department is asking anyone with information about the case to call Crime Solvers at 866-411-TIPS.