When thinking about Equality Maryland's upcoming Lobby Day in Annapolis on Monday, Feb. 11, Dan Furmansky, the equal-rights organization's executive director, can't help but quote the Jewish scholar Hillel.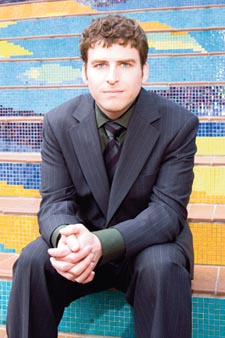 Dan Furmansky
[file photo]
"A wise rabbi once said, 'If I'm not for myself, who will be? [If I'm only] for myself then what am I? [And] if not now, then when?"' says Furmansky. "If everybody in the GLBT community, and ally community, is complacent on our rights coming to us, then we're on a much longer road then we need to be."
This year's Lobby Day is of particular importance to same-sex couples living in the state, as Maryland's 2008 legislative session marks the first in recent years that a marriage bill is being introduced. The Religious Freedom and Civil Marriage Protection Act would allow any two unrelated adults to legally wed.
"What we learned from Massachusetts, and what we've been learning in the last few weeks," says Equality Maryland field organizer, Mary Zicari, "is that it's really the personal stories that are changing lawmakers' minds. You [have to] put a face to the issue, and show legislators that we're just like them and our families are going through the same problems. All we're asking for is the same protections and benefits that they have for their families."
Equality Maryland's Lobby Day, which also gives participants the opportunity to advocate for anti-discrimination policies protecting transgender citizens, is organized much like Equality Virginia's Jan. 24 effort. It begins with a training session offering participants all they need to know before speaking to lawmakers. The major difference is that Maryland's Lobby Day is scheduled for the evening, as the state's General Assembly doesn't go into session until 8 p.m. on Mondays.
Says Furmansky: "It works out pretty well for our members to be involved in the legislative process when it doesn't interfere with missing work."
As of Thursday, Jan. 31, about 300 people had signed up to take part in Maryland Lobby Day. In addition to Furmansky, other speakers at the event will include transgender activist Mara Drummond and Travis Britt, husband of the late Sen. Gwendolyn T. Britt (D-Prince George's County), who had planned to sponsor the marriage legislation, but died of heart failure Jan. 12.
To register or learn more about Equality Maryland's Lobby Day, scheduled for 4:30 p.m. to 8 p.m., Feb. 11, in Annapolis, visit www.equalitymaryland.org.