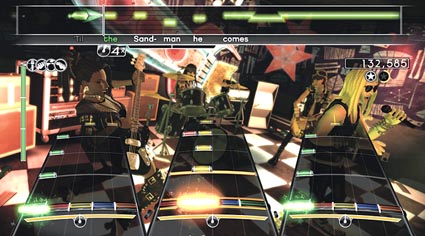 You know you want to be a rock star, whether you're the type who sings in the shower, plays some surreptitious air guitar or taps out drum lines with your fingers. Thanks to video games you can get the experience without all the drudge work of lessons, practice and — ahem — talent.
Rock Band lets you and three of your friends rock out in the comfort and (relative) safety of your living room. Developed by the minds who brought us the Guitar Hero cultural phenomenon, Rock Band takes the basic music-mimic formula to big new levels.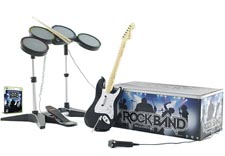 If you grab the full set of the game — the big box comes with one guitar, one drum set and a microphone — you'll be up and running quickly on either a Playstation 3 or an XBox 360, although if you're looking to play as a foursome you'll want to pick up an extra guitar controller (an original Guitar Hero controller will substitute fine on the XBox). Gameplay is straightforward — strum the guitar or bang the drums in time with the moving notes on your television. Singers just need to hit the right pitch — easy enough at first, but it gets much harder at higher difficulties. Unless, of course, you can actually sing.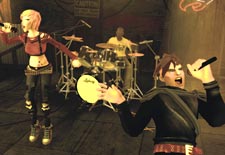 In case you're thinking that Rock Band isn't gay enough with all the hard rock, just consider that there's likely nothing gayer than you and your friends rocking out to "Cherry Bomb" in your living room. Of course, if that's not to your taste either, you can check out some of the other impressive track offerings, including The Killers, Yeah Yeah Yeahs, Garbage and Weezer. Or you can download songs like David Bowie's "Queen Bitch." (New songs are released every week.)
If you're less American Idol and more So You Think You Can Dance, you can grab the latest iteration of Dance Dance Revolution, a series so long-lived it has more sequels than Rocky and Rambo combined. Move the furniture aside and unfold the plastic dance mat — and take off your shirt, if that's what you're used to — and you're ready to dance. It comes with built-in party games as well, for both one and two dance mats.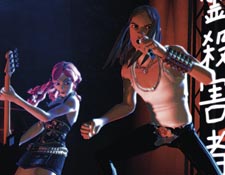 So get out there and be what you truly are — a star, star, star.
Rock Band bundles for PS3 and XBox are available at electronics and game retailers for $169.99; game only is $49.99, while instruments run from $29.99 to $79.99. Dance Dance Revolution Universe 2 bundle for XBox 360 available for $69.99.