Ending an odyssey that began in October of last year, popular local DJ Rob Harris has been exonerated. U.S. District Judge Theresa Carroll Buchanan on Feb. 6 signed the order dismissing the criminal complaint seeking a single felony charge against Harris: "conspiracy to distribute methamphetamine."
Harris released a statement to Metro Weekly Feb. 17, which reads, in part: "I hope that no one is falsely accused like I was and has to go through what I did the past few months. I was fortunate enough to have people who believed in me despite so many people jumping to conclusions and declaring me guilty without the benefit or knowledge of the facts….
"Not to have been supported, but to have been vilified by my community was an eye-opening experience. I am moving forward with my life, wounded, but stronger for the ordeal.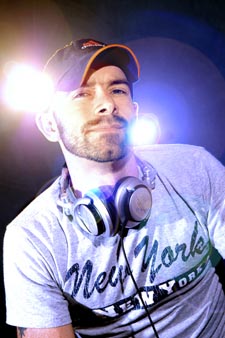 DJ Rob Harris
"I am excited to focus back on what I love: music! Also, a big 'thank you' to Joey-O and everyone at Apex who never wavered in their support."
Harris' ordeal actually began in San Diego, according to court documents, when Paul Latiff was stopped at San Diego International Airport on his way to D.C. after the Drug Enforcement Agency received information that he was carrying methamphetamine. Two DEA agents stopped Latiff and searched him, seizing seven ounces of the drug, particularly popular among gay men, taped inside his pants.
According to a court statement filed by one of the DEA agents who stopped him, Latiff confessed to mailing a package via FedEx to Washington and supplied the tracking number. That package was addressed to Harris at his primary place of work on New York Avenue, and intercepted and searched by the DEA. "[T]he package contained approximately three ounces of a mixture and substance containing methamphetamine," the statement reads.
Working undercover, DEA agents delivered the package, arresting Harris when he collected it. According to the statement filed in Latiff's case, Harris told DEA agents Latiff had contacted him a few days prior to ask him to accept the package, and that "he suspected that the package contained narcotics."
After being read his rights, which he subsequently waived, Harris gave DEA agents complete consent to search his home on T Street NW.
Though Harris declined to sit for a full interview about the matter, he did elaborate beyond his initial statement, sharing some of the personal detail lacking in the black-and-white court record.
Harris says he consented to having DEA agents search his residence for two reasons: First, he says he had nothing to hide from the DEA. Second, now in custody, he was hoping to have someone check in on his dog, Hank, prior to making pet-sitting arrangements with a friend. Harris says the DEA agents agreed to his conditions concerning the dog.
That sort of rapport with authorities flavors Harris' retelling of related events, with Harris saying that he does not feel he was treated unfairly or disrespectfully at any time by authorities.
"They were just doing their jobs," says Harris. "I'm not angry about it…. When I got out [of jail], the DEA agent asked if Hank was okay. It seemed pretty genuine."
Arrested Oct. 15 and held in the Alexandria City Jail, Harris was released Oct. 18, despite a request by a United States attorney that he be held. He was also ordered to notify employers of the charge. Still, Harris says he remained hopeful throughout for a just resolution.
"I never dealt [methamphetamine]," Harris says matter-of-factly, countering the single charge the U.S. District Attorney's office tried to bring against him, pointing out that his case never made it to the stage of a grand jury. "I had a feeling that it was going to work out…. I'm a little bruised and battered, but wiser."
As for Latiff, his case is ongoing in the United States District Court, Southern District of California. Latiff has pled guilty to a charge of intent to distribute approximately seven ounces of methamphetamine. According to the DEA agent's court statement in the Latiff case, Latiff told the agent he had lost his job due to being addicted to methamphetamine and that he was dealing and transporting the drug to pay for living expenses and medical bills. The phone number listed for Latiff's local address on Massachusetts Avenue NW is out of order, and Harris says he's had no contact with Latiff since October.
Court documents in Latiff's case show that a plea agreement of some sort was filed Feb. 8, but that agreement is sealed. A sentencing hearing is scheduled in U.S. District Court in San Diego for May 5.