Step aside Easter, Saint Valentine is the real king of candy. And when it comes to candy, choosy adults choose chocolate.
BIAGIO IN THE BASEMENT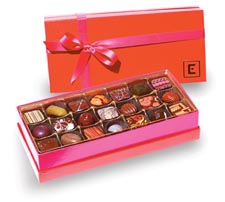 Candy from Biagio
It's a little tricky to find Biagio Fine Chocolate, cozily tucked away in a basement-level storefront, but the hunt is well worth the effort. Take this luscious, 21-piece box by Christopher Elbow, for example, available for $40. For the incredibly indulgent, or if you're seeking reprieve from your Valentine's doghouse, check out the Le Selezioni box from Amedei of Italy, a sophisticated masterpiece of artisan bars for $100. Or, for the BoHo set, a much more affordable option is a "Flaming Heart" from Chicago's Vosges Haut Chocolat for $10. The deep lavender packaging is lesbilicious. 1904 18th St. NW, 202-328-1506, www.biagiochocolate.com.
ACKC, FROM TASTY TO RACY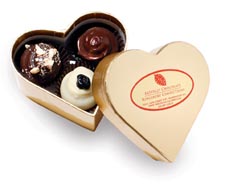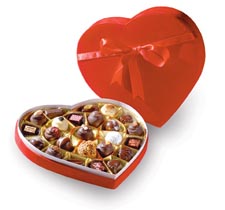 Heart-shaped boxes from ACKC
Step into ACKC — a.k.a. Artfully Chocolate featuring Kingsbury Confections — and it's a bit like walking into Willy Wonka's fantasyland. The scent of fine chocolate hangs in the air, while co-owner Eric Nelson's bright, sometimes whimsical art surrounds you. While there are no Oompa Loompas, there are rows upon rows of freshly made chocolates awaiting placement in your custom-made Valentine's box. The large 24-piece box pictured here is $52, while a smaller heart goes for $6.95. Or plan on raising a lather with your sweetie and the Chocoholics Shower Bar, which is edible, for $5.50. Of course, the gift of knowledge will stoke any intellect's flame, making the $25 truffle-making class a smart gift. Over at the Del Ray Artfully Chocolate, a Valentine's Day partnership is underway with Body, Mind, Sole, pairing the taste of chocolate with the art of touch. 1529C 14th St. NW, 202-387-COCO, www.thecocoagallery.com. For the Del Ray package, call 703-635-7917.