Phew! We can all breathe a big, collective sigh of relief now that the writers' strike has come to an end. It means — yes! — the Oscars will go on this weekend as planned! No debacle like the Golden Globes, reduced to a lame press conference that, while mercifully brief, was lacking in any of the excitement, bloat, thrills, bloat, suspense, bloat and "I'd like to thank my mother, father, agent, spouse, dominatrix and the kitchen sink" acceptance speeches typically associated with awards shows. This year's Oscars promises to have all that and more, although we're at a loss as to determine what the "and more" might be.
Frankly, it's a mildly competitive year for the Oscars — if your movie happens to be titled No Country for Old Men or There Will Be Blood. Seriously, though, all of the movies nominated were actually good, and in some cases, magnificent. Still, it seems obvious what will take home Hollywood's golden idol.
With that, we offer you our annual guesses at who Tim and Randy each think the Academy will choose to reward on Sunday, Feb. 24. As always, feel free to play along — and don't blame us if you lose a pool because of our picks. (Of course, if you do win, we're all too happy to graciously accept 10 percent of your winnings.)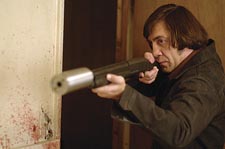 'No Country for Old Men'
BEST PICTURE: Four of the five nominees are deserving. The only one that really doesn't belong here is Juno, a terrific little film, but really, not a best picture. (Why the Sweeney Todd snub?) Two months ago, we would have said Atonement is a lock, but the director, Joe Wright, was shut out of the director category, so its chances for a big win decreased considerably. The race is between the gripping and astonishing No Country for Old Men and the equally gripping and astonishing There Will Be Blood. RANDY AND TIM BOTH SAY — No Country.
BEST DIRECTOR: The Academy could split here and throw a bone to Paul Thomas Anderson for Blood, or they could make a nod to wild card Julian Schanbel, who took home the Golden Globe for The Diving Bell and the Butterfly. But Joel and Ethan Coen currently have the momentum. RANDY AND TIM BOTH SAY — The Coens.
BEST ACTOR: An easy one. Johnny Depp, Tommy Lee Jones, Viggo Mortensen and George Clooney were all amazing, but couldn't hold a candle to Daniel Day-Lewis's compelling, vigorous performance of a man driven to the brink of madness by his own greed and ambition in Blood. Still, you never know…. RANDY AND TIM BOTH SAY — Day-Lewis.
BEST ACTRESS: Probably the evening's toughest category to call, but let's rule out Marion Cotillard for her performance as Edith Piaf in La Vie en Rose. Foreign films rarely win acting awards. Ellen Page, of Juno, is the wild card. Julie Christie, who played a woman with Alzheimer's in Away From Her is the odds-on favorite, but Laura Linney (The Savages) could be the big surprise of the evening. RANDY AND TIM BOTH SAY — Christie.
BEST SUPPORTING ACTOR: A no-brainer. In No Country for Old Men, Javier Bardem stole the show, crafting one of the most memorable, darkest movie villains in recent memory. The award is his to lose. RANDY AND TIM BOTH SAY — Bardem.
BEST SUPPORTING ACTRESS: American Gangster's Ruby Dee, despite a performance that lasted approximately five minutes, is the sentimental favorite, but Cate Blanchett (I'm Not There) and Tilda Swinton (Michael Clayton) were equally tremendous. Underdog Amy Ryan could sneak in and steal the statue for the terrific noir thriller Gone Baby Gone. RANDY SAYS — Dee. TIM SAYS — Blanchett.
BEST ORIGINAL SCREENPLAY: Hollywood will reward deserving newcomer Diablo Cody for her excellent screenplay for Juno, which deals with teenage pregnancy in an intelligent, even-handed fashion. RANDY AND TIM BOTH SAY — Cody.
THE OSCARS
Feb. 24
8 p.m.
ABC
GLAMOUR, GLITTER & GOLD
Benefiting The Center
Feb. 24
7 p.m.
Green Lantern
$25
BEST ADAPTED SCREENPLAY: Hard category to call, but the Hollywood buzz is currently favoring Christopher Hampton, whose work on Atonement was potent and indelible. Still, this could be Paul Thomas Anderson's consolation prize. Or the Coens could sweep. RANDY SAYS — Hampton, Atonement. TIM SAYS — Anderson, Blood.
BEST CINEMATOGRAPHY: All the nominees here are worthy, but the race is between Atonement, which took us from the lush greens of countryside England to the pandemonium of WWII in a flash, and Blood, which was simply remarkable to gaze upon in every respect. RANDY SAYS — Seamus McGarvey, Atonement. TIM SAYS — Robert Elswit, Blood.
BEST EDITING: The thing to know here is that No Country was edited by the Coens under an assumed name. That could cost them the editing trophy, which the Academy will then hand to Blood. The surprise could be a nod to The Bourne Ultimatum for its hyper-kinetic style. RANDY SAYS — Roderick Jaynes (the Coens), No Country. TIM SAYS — Christopher Rouse, Bourne.
BEST COSTUME DESIGN: A competitive category, what with all sorts of period films vying for the honor: Atonement, Elizabeth: The Golden Age, La Vie en Rose, Sweeney Todd and Julie Taymor's Beatles fantasy, Across the Universe. This could be Sweeney Todd's one and only nod. RANDY SAYS — Colleen Atwood, Sweeney. TIM SAYS — Alexander Byrne, Elizabeth.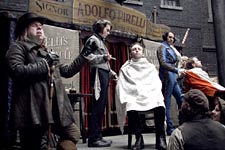 Sweeney Todd
BEST ART DIRECTION: The race here is between Atonement, Blood and Sweeney. American Gangster and Golden Compass are the long shots. RANDY SAYS — Sweeney. TIM SAYS — Blood.
BEST MAKEUP: Well, it's not going to be Eddie Murphy in fat-suit drag, despite Rick Baker's genius at creating convincing folds of blubber. It comes down to a tossup between Pirates of the Caribbean: At World's End, much of which is digitally produced anyway, and La Vie en Rose. RANDY SAYS — Pirates. TIM SAYS — Rose.
BEST VISUAL EFFECTS: The machines have the edge over the mess that was Pirates and Golden Compass's talking animals. RANDY SAYS — Transformers. TIM SAYS — Compass.
BEST ORIGINAL SONG: It seems that Disney, with three nominations for songs out of the fantasy comedy Enchanted has Oscar magic in its favor — not to mention the dazzling collaborative gifts of Alan Menken and Stephen Schwartz. But "Falling Slowly" from Once might just upset Disney's apple cart. Too bad Sweeney Todd wasn't eligible — Sondheim would've mopped these lightweights up. RANDY AND TIM BOTH SAY — "Falling Slowly."
BEST ORIGINAL SCORE: With no clear frontrunner, it's an even-Steven race between Atonement, Michael Clayton, The Kite Runner, Ratatouille and 3:10 to Yuma. RANDY AND TIM SAY — Atonement.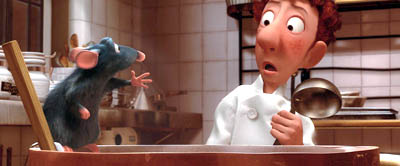 Ratatouille