There is no doubting that Cuban-born Jorge Zamorano is a passionate man. The proof is not solely in his Banana Café, which this year marks its 15th anniversary of giving Washingtonians a warm celebration of "Nuevo Latino" cuisine in a casually caliente setting. Nor is it just his relationship to Darren Love, whom Zamorano met 15 years ago in the very same Banana Café. It's not just in his soulful paintings, some of which hang in the restaurant. Nor is it in his expanding empire of restaurants: Starfish Café, also in Barracks Row, and Cumberland, Md.'s Manhattan Bar & Grill. Zamorano's passion is in all these things.
Ahead of Dining Out for Life, March 6, Zamorano also offers passionate support for Food & Friends.
"I think it's amazing what they do," he says of the local group that for 20 years has prepared and delivered meals first to people suffering from HIV/AIDS, then other illnesses, today serving a broad area beyond the District. "I can only imagine that situation, where you have AIDS and you're at home and these people come and help you out. They reach out to you. How amazing is that?"
METRO WEEKLY: How old were you when your family left Cuba?
JORGE ZAMORANO: I left when I was a year old, so I don't remember anything.
MW: Do you imagine any significant changes coming with Fidel Castro's retirement?
ZAMORANO: Any kind of change is good in Cuba, but I don't think there's going to be anything drastic. Any change in Cuba is going to happen gradually. It seems like Fidel's brother, Raul, is leaning toward change, but I don't think there's going to be anything drastic at all.
MW: Have you ever been back?
ZAMORANO: No. One time I wanted I go. My parents lived in Miami, and I was like 18. I found out about this little tour they had where you could leave Miami in the early evening, go to Havana and have a tour, then have dinner and see the show at the Tropicana and come back.
I was very excited and I told my mom about it. When I told my mom — and my mom is an angel — she turned around and she looked at me and she said, "Over my dead body." And that was the last time I contemplated the subject of going to Cuba.
MW: How do you maintain ties to your Cuban heritage?
ZAMORANO: I grew up in Puerto Rico, and it's very similar. I grew up in a very Cuban environment. My friends were Cuban. My grandparents from my father's side were living with us. Always, there was that Cuban heritage. They talked a lot about Cuba. Everything we ate was Cuban. The friends my parents had, a lot of them were Cuban. I was immersed in Cuban culture. Of course, like any other culture, your parents will make you proud of your roots. Even though my mother is from Columbia, she lived in Cuba for many, many years. They made sure I knew about Cuban culture and everything that had to do with it.
MW: Did you come out to your family?
ZAMORANO: I come from a Cuban family, a Latino family where there is a lot of machismo. And I went to Catholic school, church every weekend.
When I started realizing what being gay meant, I decided at a very young age that I would not tell my parents — I would wait until they asked me. Up to this day, they've never asked me, but they know. They know about my partner. But we've never really sat down and talked about it, and I've never really made it a big deal.
Being gay, for me, is just part of my life, but it's not what I'm all about. I grew up in a very, very normal family, with my grandparents, my mom always at home, my dad working. I was very lucky. But the thing of being gay, for me, was I didn't need to tell everybody. I just lived my life the way I was.
MW: When did you leave Puerto Rico? Where did you go?
ZAMORANO: The same time I finished high school, my parents moved to Miami and I went to New Orleans for school, Loyola University. That was 1978. I lived there for nine years. I knew I was having too much of a good time. When I really came out, when I said I'm going to start going to gay bars, I was in New Orleans. The first time I went to a gay bar was during Mardi Gras.
My first time there, I got kind of freaked out. I had never seen men hugging and kissing like that. I went in, leaned against the wall and just stood there for an hour. I didn't move or talk or anything.
It was crazy. It was packed. There were a lot of people hugging, kissing and grabbing. That's something that you know about, I knew I was attracted to men, but I had never seen it like that, especially coming from a Latin country. It was kind of a shock.
I left and kind of analyzed the whole thing. The second time it was a little easier. The third time, I was going with a group of people and it just became part of the norm.
MW: What did you study at Loyola?
ZAMORANO: Marketing and finance. The reality was that my parents wanted me to study art. They were always very, very supportive of that, from a very early, early age.
MW: It's usually the other way around.
ZAMORANO: Exactly. When I was 10, my mom put me in an art class because she didn't know what to do with me. I wouldn't stay still, so she put me in an art class after school. I took it for a year.
After that, I continued to paint. I fell in love with art. I never did stop doing work. When it came time to graduate from high school, they realized I had a real talent for that, so they were hoping that I would study art. They said, "Why don't you study art in Italy, somewhere in Europe?" All my friends were going to study at Loyola. I really wanted to go where all my friends were.
I went to my dad and said, "I'm a man and I think I should pursue a business degree," and all of this. In reality, I just wanted to go where all my friends were.
If there was one thing I could change in my life, it would be that. I wish I would've studied art. But everything always happens for a reason, and I really don't have any regrets for studying marketing and finance. I think that's been great for my businesses. Even with my art, that background was very helpful.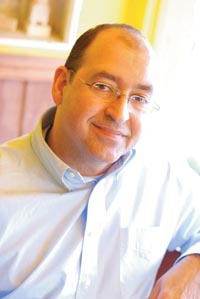 Jorgé Zamorano
MW: While gay life in New Orleans certainly made an impression on you, did the city's famous cuisine impress you?
ZAMORANO: Absolutely. That's where I started in the food business. When I was going to school, I got a job at Commander's Palace, which is one of the best restaurants in New Orleans. I had a job there as a food runner, busboy. That was my first experience in the restaurant business. To be lucky enough to start in a place like that, it was amazing. To see how everything operated was fascinating.
From there on, I started working in the service industry. I worked in the hotel business for many, many years. Ever since Commander's Palace, I knew that I liked the business a lot. Being Cuban, I always had it in my mind that I wanted a Cuban restaurant. That's really how the thing with the restaurant started.
MW: When did you move to Washington?
ZAMORANO: In 1986. I decided that I wanted to move. [I could] go back to Miami where my parents were, but I didn't want to be close to them because I was starting to experience everything. I thought about New York, but it was such a big city. I thought about Atlanta.
I started asking people about Washington, and everyone I asked had good things to say. Thinking about it, it was the capital of the United States of America, how bad could it be?
I grabbed my things and came here. And from the moment I got here, I loved Washington. I thought it was an amazing city. I loved that fact that there were people from everywhere, people were so well-educated. The politics, the excitement, all the museums.
Honestly, I thought I was going to be here for a couple of years and then I was going to pick up and move somewhere else. But a couple years turned into 20.
I started making friends. I started getting involved in painting, meeting artists. Some of my friends were living here. One thing led to another, and it really has turned into all these years.
MW: How did you get started with Banana Café?
ZAMORANO: Let me tell you how it was: A friend of mine was the owner, and they opened another restaurant in Dupont Circle. They kind of abandoned this one. Somebody I'd started dating who was working here — my present partner, Darren — said [the owner] Jaime was going to close the restaurant. When he told me that, I went and talked to him. I said, "Why not sell me half of it? I'll buy half of it, if you let me manage the restaurant." I thought I'd do that for six months. Six months turned into 15 years.
When I got it, it used to be a Tex-Mex restaurant called Lone Star Cantina. From there we changed the name to San Antonio Bar and Grill for a few months, and then, finally, Banana Café. That's when we introduced Cuban food and Puerto Rican food.
I used to sell my artwork from here. Always my intention was going to Europe and painting and meeting artists, living the life of an artist. It was wonderful. First I was in Moscow. Then Paris. My next one was going to be Prague. It really was a great life. I loved it. It was very exciting.
Then I started this, and this became a challenge. When I bought Banana Café, this area was not so safe. It really was bad. But at that age, it was a challenge. It was exciting. I used to work seven days a week, day and night, nonstop. Sometimes I would pay the rent with the paintings I was selling, and that's how I was able to start the restaurant. It was very, very hard, but I knew it had potential.
When I took it over, I knew the reasons why the restaurant had gone down. Just by looking at it, I saw the problems they were having. I knew we could fix those and turn the place around.
MW: What changes were needed?
ZAMORANO: Greater attention to service. Attention to consistent food. Back then there was Tex-Mex, but there wasn't much Nuevo Latino. So the tweak that we gave Banana Café was that you could have the Cuban, Puerto Rican and Mexican — and having the piano bar on the second floor, mixed with all the art.
I made art a very big part of Banana Café. I was very involved in the art world. I have a lot of artist friends and we used to have artist receptions here. The whole combination of things really turned the place around.
MW: How much credit goes to Banana Café for transforming the Barracks Row neighborhood?
ZAMORANO: I really have to say — and I'm proud to say — that Banana Café is one of main anchors of the strip. When I bought the place, there were people who said, "You're out of your mind. You're crazy. Why would you open there? It's the worst neighborhood." I had already done my research and I knew what they were planning to do with the Navy Yard. They told us it would take about three years, but it's taken — what? — 12 years for that to happen.
I didn't know it was going to take that long, but, yeah, I think Banana Café had a lot to do with it.
Banana Café is really — and I say this with respect — it's like an old shoe. People come here and they feel very comfortable. Banana Café is casual, it's loud, it has good food, it's not expensive. People come here to have a good time. They come here and they know what they're going to get.
MW: Is your passion directed primarily at your businesses, or food or painting?
ZAMORANO: These are all my passions. I'm very passionate about the things that I do. That's what keeps my life exciting, that it's not just one thing. If you do just one thing all the time, then you get bored. I'm very fortunate that I'm passionate about different things.
I wake up and I'm excited that I'm going to work. You have all the headaches that come along with owning businesses, but do you know how fortunate I am that I can wake up and be excited about coming to work? And when I'm at work, it also has to do with the cooking.
All of my life is involved in things I like very much. Then I have my partner and I can't imagine my life without him. When I look at my life, I feel extremely, extremely fortunate. I'm lucky that I have passion for so many things.
MW: And you met your partner at Banana Café, right?
ZAMORANO: My friend who owned the restaurant, he said, "You have to see this server. He's really, really good looking."
Finally I came here and I saw him and I thought, "Yeah, he's cute." But I wasn't interested in him, because he looked much younger than me. He's eight years younger. I always wanted someone my same age, so I didn't have to worry about going out to the bars all the time. That was the first time I saw him, and I thought, "too young." Fifteen years later….
MW: Do your parents enjoy your restaurants?
ZAMORANO: [Laughs.] They love to eat for free. They're very proud of everything I have done. They have seen me work and they're very proud of what I have achieved. And they're very supportive.
A lot of my grandmother's recipes, we use here today. My grandmother was a great cook. Wonderful, wonderful! After my grandmother passed, my mother helped. A lot of times I used to get on the phone: "Mami! How was it that Nana used to cook this?" Very Cuban.
MW: Do you imagine you'll ever leave the restaurants behind to return to painting full-time?
ZAMORANO: You always have plans, but life really determines what's going to happen. I have always said that by the time I turn 50 — I'm 48 — I'll go back to the art full time. But 50 is almost here, and I say, "Wow, what happened?"
MW: When do you think you'll at least slow down?
ZAMORANO: I hope never. What is slowing down? To do what? Sit at home and watch TV? When I have a day off, I hate it. I don't know what to do with myself. I have to leave town. If I stay here, I always end up in the restaurant.