The first thing that usually comes to mind when thinking of a way to surprise your favorite person on Valentine's Day is a cozy, romantic dinner at a fabulous — and likely expensive — restaurant.
But then there's the problem of actually getting a reservation, not to mention paying for the extravagant evening. And the tables packed with other couples make for a less intimate atmosphere than you hoped for.
This year, create a far more intimate and memorable evening by surprising your special someone with a Valentine's dinner. Even if you're not super experienced in the kitchen, there are some easy ways to create a meal that tempts both the palate and the emotions.
First off, don't get yourself in over your head. If you only rarely turn on your oven, now isn't the time to search out the most obscure and complicated recipe in a Mario Batali cookbook. A simple yet well-done meal will always impress more than a complex but flawed one.
Try roasting a whole chicken. It's a classic comfort food that engenders warm feelings from the moment the aroma of cooking hits the air. Before roasting a four- to six-pound chicken, rub the cavity with salt and pepper then stuff it with a whole head of garlic (sliced crosswise), one lemon (quartered) and two to three springs of rosemary. Rub the skin with a tablespoon of olive oil, sprinkle with salt and pepper, and roast in a 350 degree oven for 20 minutes per pound. (You can make things easier for yourself by buying a roaster chicken with a pop-up thermometer already inserted.)
Two simple side dishes also help keep things light — a good idea, since a heavy meal can lead to a couch coma, which would put a damper on continuing your Valentine's celebration beyond dinnertime. A simple orange and red onion salad with a balsamic vinaigrette dressing adds a splash of color and complements the citrus flavors of the chicken. Steamed green beans with almond slices finish the plate with a healthy and tasty touch.
Naturally, it wouldn't be Valentine's Day without chocolate. A chocolate layer cake with strawberries and cream filling and a ganache icing makes for a show-stopping finish — and a deceptively easy one, with a couple of easy shortcuts.
You and your Valentine will both be glad you saved the restaurant trip for another celebration — perhaps your anniversary.
RECIPES:
Roast Chicken with lemon and garlic
1 four to six-pound whole chicken
1 large lemon, quartered
1 whole head garlic, halved horizontally
3 to 4 springs rosemary
3 tablespoons olive oil or good quality vegetable oil
Salt
Black pepper
Pre-heat oven to 450 degrees.
Remove giblets from chicken, if included, and discard. Rinse chicken and pat dry. Season the cavity liberally with salt and pepper, then insert lemon, garlic and rosemary. Rub chicken with oil and season with salt and pepper, to taste. Tie the legs together over the cavity with kitchen twine.
Place chicken breast side up in a rack in a medium or large roasting pan, tucking wings underneath the chicken. Put the chicken in the pre-heated oven and immediately reduce heat to 350 degrees. Cook for approximately 20 minutes per pound — for food safety, the internal temperature of the chicken should reach 180 degrees near the thigh (many roaster chickens come with pop-up timers included). Baste chicken no more than twice during the final hour of cooking.
After removing from oven, allow chicken to rest for 10 to 15 minutes. Remove and discard items from chicken cavity before carving.
Orange and Red Onion Salad
3 large mandarin or blood oranges
1 medium red onion, thinly sliced in half or quarter circles
2 tablespoons high-quality balsamic vinaigrette
Carefully peel oranges with a paring knife, and trim slices from away from the membranes. Remove all seeds.
Carefully mix orange slice and onion. Place directly onto plate and drizzle with balsamic vinaigrette to taste.
Green Beans with almonds
5 oz. fresh green beans (about two handfuls)
1 oz. sliced almonds
1 lemon, halved
1 tablespoon butter
Wash beans and trim ends, then cut into two-inch pieces.
Place almond slices into a small saute pan over medium heat and cook, tossing often, until aromatic. Remove from heat and set aside.
Bring a medium pot of lightly salted water to a rapid boil, then add beans. Cook for 5 minutes, or until beans are bright green. Drain beans in colander.
At the same time, heat butter in a medium saute pan. When beans are drained, add to saute pan for one to two minutes. Remove from heat, add almond slices and spritz of lemon juice to taste before serving.
Tip: If you want to avoid adding more fat to your meal, skip sautéing the beans and simply add almond slices and lemon juice. Season to taste with salt.
Chocolate Cake with Strawberries and Cream
1 cup buttermilk
1 cup water
2/3 cup vegetable oil
2 cups sugar
2 eggs (at room temperature)
1 tsp. baking soda
1/2 tsp. salt
2 cups all-purpose flour
3/4 cup unsweetened cocoa powder
Ganache for icing (see recipe)
1 package cook-and-serve vanilla pudding
16 oz. strawberries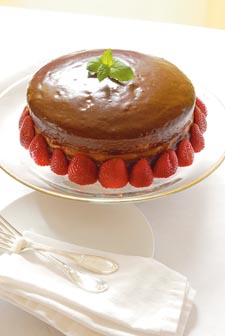 Chocolate cake with strawberries
On the night before, prepare vanilla pudding according to package directions. Place plastic wrap on pudding surface and refrigerate overnight.
Heat oven to 350 degrees. Grease and flour two 9-inch cake pans (a spray such as Pam for Baking is faster and less messy).
In a large bowl using a wire whisk, combine buttermilk, water, oil, sugar, eggs, baking soda and salt. Add flour and cocoa powder and whisk until smooth. Divide the batter evenly between the two pans. Bake for 30 to 35 minutes until a wooden toothpick inserted in center comes out clean.
Cool 10 minutes. Remove from pans and completely cool on wire racks.
To assemble cake: Place bottom layer on cake stand or plate (if the top is very domed, slice the top horizontally to create flat surface). Top layer with vanilla pudding to edge, about 1/2-inch thick. Arrange 1/4-inch thick strawberry slices on top of pudding. Place second cake layer on top.
Slowly pour cooled ganache over cake (reserve any excess ganache) and chill for two hours. Garnish bottom of cake with halved strawberries. Dip extra strawberries in reserved ganache and serve with the cake.
Ganache
1 cup heavy cream
8 oz. semisweet chocolate
Roughly chop chocolate into small pieces. In a small, heavy pan, bring cream to a boil over medium heat. Immediately remove from heat and add chocolate — do not stir.
Let stand for five minutes, then stir until smooth. Let ganache stand for 15 minutes or until thickened before pouring over cake.