Sitting calmly in the office of a man who voted against your civil rights, by supporting the successfully passed marriage amendment that prohibits same-sex marriage in Virginia, can be difficult.
But for Suzanne Moe, a 42-year-old lesbian from Fredericksburg, Va., and four others who shared the couch in Del. William J. Howell's office on Thursday, Jan. 24, it's an opportunity to persuade the Republican speaker of Virginia's House of Delegates to consider their rights during future votes.
"In the past we've agreed to disagree with a smile," Moe, a self-employed graphics and tattoo artist, said before the five grassroots lobbyists shared their thoughts on why the lawmaker should support a handful of bills that would advance GLBT equality by prohibiting housing discrimination based on "sexual orientation," expanding health-care coverage to include domestic partners, and other civil-rights efforts.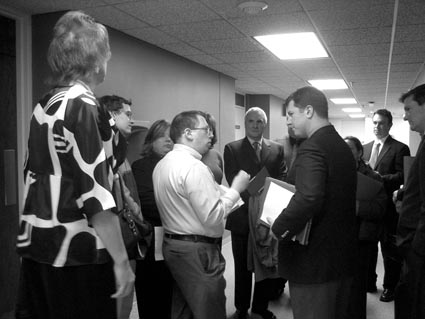 Lobby Day: Sloan Weisen (center)
Yusef Najafi
That's the purpose of Lobby Day at the Virginia General Assembly in Richmond.
As the legislative session proceeded, special-interest groups, including amputees, doctors, and in Moe's case members of the GLBT community, filled the halls of the General Assembly to meet with their elected officials in an effort to put faces behind each bill in question.
Moe and her group's 10:45 a.m. appointment with Howell was brief, running a few minutes shy of its scheduled 15 minutes. Sloan Wiesen, a Realtor from Reston, was in Moe's group.
"I'm hoping to focus a bit on the importance of how people can disagree in their views about orientation and have different religious beliefs but still come together in support of non-discrimination and talk about the polling data that supports that," he said before walking into Howell's office. But while sharing that polling data with Howell, Wiesen was interrupted.
"You've made your point well," Howell said, adding that he had a lot to do. He kindly shook everyone's hand before ushering them out of his office.
Yet Howell did assure the group he would support a non-discrimination bill "if it gets to the floor." So the meeting wasn't a bust.
And then it was off to the next lawmaker.
Equality Virginia's Lobby Day officially kicked off with a 7 a.m. prayer and breakfast at the Virginia Holocaust Museum. At 9:30, Dyana Mason, executive director of Equality Virginia, welcomed the several hundred people who showed up at the Library of Virginia for a training session to turn laypeople into lobbyists.
"You do not have to be an expert," she assured. "All you have to do is share why you are here today and pick a few of the issues…most important to you, and why they're important to you."
For those who were a bit rusty on the status of GLBT-related bills in Virginia, Equality Virginia provided bulky, blue folders packed with information: pamphlets, printouts, and a "How to Lobby" list.
"We've already done all the homework for you," said Mason. "We've planned ahead for you, we helped set up the visits so that's already taken care of." She then suggested effective language when speaking with lawmakers. As a lobbyist, one should avoid terms like "sexual preference" and instead say "sexual orientation."
"Don't say 'gay marriage,"' Mason instructed. "Instead use just 'marriage' or, if necessary, 'same-sex marriage."'
The information helped Debbie Dunkle, a self-employed transgender woman from Newport News, Va. "I'm a very out girl," Dunkle said. "There are a lot of issues that need to be addressed and I think I'm a good spokesperson for that."
Dunkle decided to attend Lobby Day with the hopes of changing at least one person's misconceptions about transgender people. "Trans people are just people," she said. "We're not like the Jerry Springer image of weird people…. We're just people and we need rights just like everyone else."
The late January event marked a special occasion for Suzanne Moe, who attended her first Lobby Day in 2004 with Cris Elkins, 60. The two met at the Unitarian Universalist church Moe attends with her partner, blues singer Gaye Adegbalola. This time, in addition to reuniting with Elkins, whom she now calls her "mentor," Moe brought along her own protégé — Krystle Demboski, a 17-year-old lesbian from James Monroe High School in Fredericksburg, whom Moe befriended through a local art project.
"I was delighted to have [Elkin] come and to have Krystle with me, because of the levels of generations involved in this," Moe said.
Even though Elkins and his partner of 34 years, Jene Hannold, 75, left Virginia in 2005 for Greensboro, N.C., they still return annually for Equality Virginia's Lobby Day to show support for friends like Moe. And though the support may be nice, there's no mistaking that Moe is pretty good at fighting her own battles.
"They're here as elected officials representing us," Moe reasoned, looking at the legislators. "It's important for them to hear from their constituents, to understand what our needs are, what we're asking for, because this is all going to be voted on."
For more information about upcoming Equality Virginia events, visit www.equalityvirgina.org.