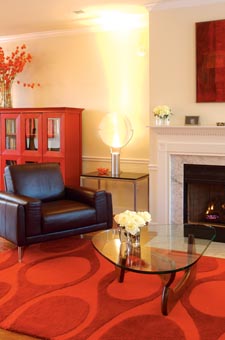 Plenty of couples may claim their homes are "love nests," but Warren Ellis and Joe — "Joe-Angel" — Babb stake their claim with a little something extra.
"We met on Valentine's Day five years ago," Ellis shares, adding that they continue to mark the 14th of every month with a little gift of some sort. It's a trait that may run in Ellis' family: "My parents stayed sweethearts their whole lives."
Beyond love, what does it take to feather a love nest? In Babb and Ellis' case, a lot of artwork, for starters. Babb's paintings fill the house. Starting in the living room, his burst of red, titled "Flag," hangs above the mantel. The Texas natives continue the red theme with a rug by Angela Adams, and a cabinet from RH Studio in Georgetown.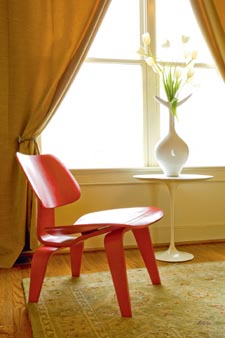 "We bought the chair in Houston," Ellis continues. "I think it's Italian. Joe's 6'5" and it's big enough for him to fit in." It also joins a matching leather sofa, and mixes well with the Noguchi coffee table from Design Within Reach. And the lamp between the cabinet and fireplace serves as something of a conversation piece: "It's just a big magnifying glass. I tracked it down at Nuvo in Houston, which has since gone out of business. It's really cool. It was way too expensive, but it looks really great at night."
The kitchen offers another opportunity to showcase Babb's painting in this two-bedroom, two-and-a-half bath, new construction row-house in Capitol Hill, which the couple moved into in 2005. The large painting is "Glow," while the four grouped paintings are "Blaze" one through four.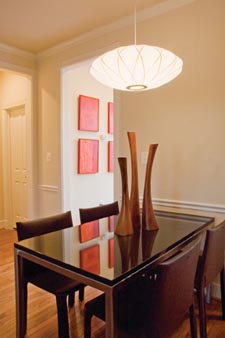 "The kitchen is the focal point," Ellis says. "Even with no place to sit, most people stand in the kitchen while Joe's cooking." And on those frequent occasions, the spherical vase is housed elsewhere: "That's usually the only place we have to cook!"
Much of that cuisine finds its way onto Ellis and Babb's dining table. Don't bother making any jokes about the centerpiece's similarity to the new Air Force Memorial — they've heard them all. Surfacing the table, however, was no laughing matter. "I had a piece of granite cut [for around $800]," Ellis explains of the black tabletop. Imagine his shock when it was first delivered with rounded edges, rather than his requested right angles. With the correct granite in place, now it's just a matter of crossing their fingers and hoping it doesn't crush the frame, Ellis jokes.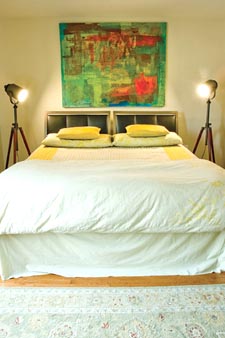 As no room is so integral to a love nest as is the master bedroom, the couple have treated the room very lovingly. First, there is the Eames molded plywood lounge chair in red, so favored by the two, paired with a Saarinen side table. It's perhaps not the most functional corner of their home — "People have sat in the chair, but they don't run to it" — though Happy, their 10-year-old collie mix has no trouble sleeping on the pale-green rug, which runs to the foot of the bed.
To either side of the bed are lights that give one the impression the Babb and Ellis are some sort of exhibitionists. Reality is a bit more subdued. "Most nights we read in bed, so we needed concentrated light, but most floor lamps shine up," Babb says, explaining that once they spotted this pair of lamps at Pottery Barn, problem solved.
Above the masculine leather-and-steel headboard, the master bedroom is rounded out with another Babb original, the soothing "Lost and Found," which adds perfect compliment to the subtle Calvin Klein bedding. But don't be fooled by the delicate pillow arrangement.
"We bring out additional pillows at night," Ellis admits. "I have a lot of pillows."