Few driving experiences are as distinctive as being behind the wheel of a Mini Cooper. Much vaunted for its "go kart" feel, the Mini encourages — no, demands — that you fling it willy-nilly around street corners and through traffic. Being slung so low to the ground and atop such a tightly designed suspension, it's about as close as you can come to your own daily amusement park ride.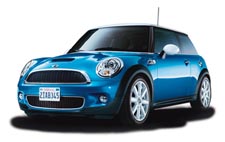 2008 Mini Cooper S
The Mini stands out for reasons beyond its bewitching ride — its teeny profile has made it one of the area's most popular urban choices. A relative recently visiting from rural Indiana noticed immediately the teeming masses of Minis in the D.C. area — they're a rare breed in the wide open spaces, but flush in the city.
Not only can you thrash it through the streets, you can squeeze it into the most unlikely of parking spaces. How many Minis can you fit on a street? There's no definitive answer, but it's certainly more than standard SUVs and full-size sedans.
2008 Mini Cooper S
Base Price: $21,850
MPG: 26 city/34 highway/29 combined
Highlights: Fun to drive and perfectly sized for urban driving
Lowlights: Uncomfortable for passengers, limited space for cargo or luggage
The Mini gets some updates for 2008, mostly minor cosmetic touches that enhance the look without dropping any of its signature style — you'll still find that gigantic circular speedometer lodged right in the center of the dash, as well as the still-charming toggle switches that control windows and other functions. One thing that doesn't change is the limited space in the rear. The Mini isn't made for long-hauling passengers, and cargo larger than a quick trip to the grocery store requires folding down the rear seats.
If you're looking to make a hardtop Mini your own, definitely look at the higher powered Cooper S version — the added turbo and six-speed manual transmission add to the overall feel of fun.