It may not be Truman Capote's legendary Black-and-White Ball of 1966, full of pop culture's who's who donning masks for the "party of the century," but there will be echoes. As Parents, Families and Friends of Lesbians and Gays of Metro-D.C. prepares for its 11th Annual Honors Gala and Silent Auction, Mia Farrow may not be on the guest list, but masks remain the order of the day.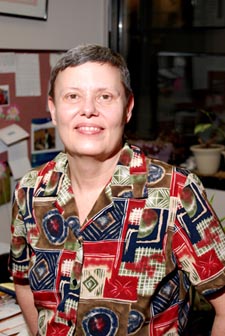 Lindy Garnette
"At Venetian Carnaval everybody comes in masks, which makes everybody equal, basically," says Lindy Garnette, executive director of PFLAG-DC, pointing to the theme of this year's event, March 8, which encourages masks, costumes and other creative attire.
"We will be doing sort of an unveiling ceremony…. Part of that is talking about GLBT folks coming out, and part of that is also talking about how parents, families, friends and straight allies also have a coming-out process."
It's a process that's different for parents, says Garnette, a lesbian with two lesbian sisters.
"Parents tend to have to come out over and over again," she says. "PFLAG really encourages parents and other straight allies to come out, because we believe that if you took every gay person and their straight network, if everybody in their straight network was also out, then that puts a whole bunch of people out there. We certainly have horror stories where long-term friendships have been lost,…but most often it just opens up a great line of communication."
And then there are those who go beyond the call of duty: allies whom Garnette says PFLAG-DC honors at its galas. This year's "Spotlight Award Winner" is Tipper Gore, wife of former Vice President Al Gore, who is scheduled to speak at the event.
"Tipper has a long history [as an ally]," Garnette says, "from being one of the first very public people to support AIDS Walks, and to actually walk in AIDS Walks. She has spoken out on several occasions on equality issues, and she and Al wrote a book together [Joined at the Heart: The Transformation of the American Family], basically a look at all kinds of family structures."
Included in the Gore book is a family made up of two dads.
"It's also very timely because Al has come out very recently in support of same-gender marriage," Garnette says. "She's supported that for a while, and now he's now on public record as supporting it."
Also being honored at this annual event is the Covenant Baptist Church in Anacostia, the recipient of the 2008 "Faith in Action" award.
"We chose Covenant," says Garnette, "because one of the issues that we often have in the African-American community is that there is more homophobia, often cited as related to the church and the teachings of the church.
"Covenant is a historically African-American and Baptist church, but their ministers made a conscious decision to make their congregation inclusive and welcoming and supportive of GLBT folks."
Other honorees are Wilmer, Cutler, Pickering, Hale and Dorr LLP, a law firm that has represented PFLAG-DC pro bono; and Teach the Facts.org, a coalition of parents and supporters working to promote tolerance and fact-based education in Maryland's Montgomery County public schools. The group is being honored with PFLAG-DC's "Community Award."
Comedian Poppy Champlin is serving as "Mistress of Ceremonies" for the gala. This year's auction, which officially kicked off online on PFLAG-DC's Web site during the first week of February, includes a wide range of items and services, including artwork and getaways to places such as Brazil, Hawaii and Tokyo.
One notable difference to last year's event is that once the auction and programs end, the music will start.
"At the end of the evening we're going to have dancing and a dessert bar to give people socialization time," Garnette says. "The feedback we got in the past is nobody likes to sit at these events the whole time."
Garnette says that of the money PFLAG-DC is hoping to raise at this upcoming gala, 50 percent will be used as the chapter's annual operating budget.
"This is a big revenue stream and it's kind of a win-win thing, because people are actually getting something for what they [contribute]," Garnette adds. "Hopefully they're getting a good deal and we're getting support from it."
PFLAG-DC's 11th Annual Honors Gala and Silent Auction, Saturday, March 8, begins at 5:30 p.m. with an "Honoree Reception," at the Hyatt Regency Washington on Capitol Hill, 400 New Jersey Ave. NW. The live Silent Auction opens at 6 p.m. Tickets are $150, or $250 to include Honoree Reception. For more information visit www.pflagdc.org.