k.d. lang is getting old. Does that sound like a bad thing? The 46-year-old doesn't think so. In press notes to her new album Watershed, lang credits her "age and wisdom" as helping her rediscover the value of quieter moments in music, the power and beauty in subtlety, the pleasure in slowing down and taking it easy.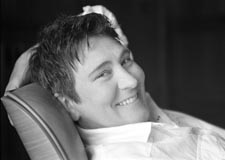 k.d. lang
lang's first album of all-new material in eight years, Watershed is an album that will grow on you as you listen to it a few times. It may even convince you that lang is one of the better gay singer-songwriters currently working. You can't help but appreciate her signature sound: a delicate but wide-open cinematic sweep. The gorgeous "Thread," for example, is quietly, subtly dramatic, even stark, especially as the rich string orchestration responds to lang's devastating lyrics. "You, I had you in my web," she sings in her stunning alto, "now here I am instead, hanging by a thread."
But for all its strengths, Watershed is not nearly as different as you might expect and certainly hope for from lang's two-plus decade career. She's been quiet and subtle and slow for a while now. Perhaps she's been slumbering too much on her "Sunday" afternoons. On that bossa nova-tinted track from the album, lang sings: "Sunday afternoon, naked in your room, love is all-consumed." The languid tempo and even lyrical phrasing makes you more than just relaxed; It makes you sleepy. On other occasions, such as "Je Fais Le Plance," lang tries so hard to be calm and casual, she sounds as if she just might fall asleep herself.
k.d. lang
Watershed
Nonesuch

Lang titled the album Watershed to signal a new direction — most significantly, her first turn as producer. Another shift: The genre-skipper is not working in one particular genre, or one concept. Now that's she's in charge, it seems, she decided to put it all together: country, adult-contemporary, bluegrass, bossa nova, jazz and standards.
She's definitely aided, as ever, by a strong backing band, most notably bassist David Piltch and banjo player Noam Pikelny. Album opener "I Dream of Spring" and especially "Coming Home" are enlightened and brightened by Pikelny's plucks.
It's hard to know how much Watershed will register as an actual turning point in lang's career, since a watershed is something easier to discern in hindsight. But it is certainly not a departure from her repertoire. In fact, it's actually a culmination of all that's come before it. As lang notes, "it reflects all the styles that have preceded this in my catalogue." Whatever the future holds, though, here's hoping lang doesn't continue to let age get the best of her. She needs to start picking up the pace — and not a pacemaker.
Advertisement

| | | |
| --- | --- | --- |
| kd lang: Watershed (CD or MP3 download) | Sheryl Crow (CD or MP3 download) | Janet Jackson: Discipline |
Sheryl Crow
Detours
A&M Records

Sheryl Crow is 46, the same age as lang. And though she ponders some of the same ideas and notions as lang on her latest album, Detours, she does it with as much spark and even more spunk than she had just 15 years ago when she broke through the mainstream. For the set, Crow reunited with Bill Bottrell, the famed producer behind her debut album Tuesday Night Music Club. That, coupled with inspiration Crow has drawn from all that has happened in her life the past few years, has resulted in the strongest and best album of her career.
Since 2005's middling Wildflower, Crow was diagnosed with breast cancer, broke up with Lance Armstrong and adopted a baby. All of those developments play supporting roles on Detours, helping to give it exceptional range of subject matter and emotion. But Crow focuses more on bigger-picture stuff, from politics to the environment. She strums her acoustic guitar and sings with her mouth pressed up to the mike on album opener "God Bless This Mess" to convey the dire weariness of living in a time of war and economic stress.
Two songs later, "Love Is Free" is another eminently catchy, straightforward bluesy pop anthem that has become Crow's stock in trade — she's got four of them on this album alone. But unlike the insouciance of her earliest hit "All I Wanna Do" or the carefree silliness of her most ubiquitous, "Soak up the Sun," her new anthems aren't just fun for fun's sake. "Love Is Free" is an homage to a post-Katrina New Orleans, where to cope you have to make happiness — or love — spring from grief and greed. "Oh everybody, devil take your money/Money got no hold on me," she sings on the song. "Everybody making love 'cause love is free."
Chances are, you'll be singing right along with many of these songs after only one playback. You'll probably cry too, over album closer "Lullaby for Wyatt." The beautiful song is very much in the spirit of her debut album's closer, "I Shall Believe," though in this case it's a mother's realistic ode to a young child. "How do I keep you from losing your way? Hope you'll go out and you'll come back someday."
With songs like this, it's a joy to come back to Sheryl Crow any day.
From YouTube: k.d. lang talks about 'Watershed'