GRAMMY'S "LOVESTONED" DANCE MOVES… This year's Grammy Awards may have been dominated by Amy Winehouse singing from rehab (no, no, no: just via satellite from London), as well as Kanye West, even Herbie Hancock. (What?!?) But Justin Timberlake took home the Grammy for Best Dance Recording for the second year in a row. "LoveStoned/I Think She Knows" may not have gotten as much play as last year's "SexyBack," but you heard it in clubland just the same. Maybe you even loved it a little more?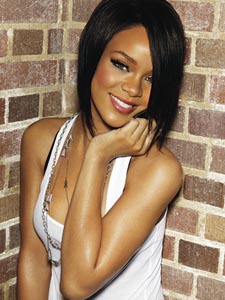 Rihanna
The Chemical Brothers lost out to Timberlake with nominated single "Do It Again." But the British duo did win Best Electronic/Dance Album for We Are The Night, just as they had two years prior with 2005's Push the Button. For the nod, the duo once again defeated LCD Soundsystem (this year for the fantastic Sound of Silver), as well as the over-hyped Justice (Cross) and the better-known Tiesto (Elements of Life). Maximal-electro master Benny Benassi won the final dance-specific category, a remixer's award. Italian Benassi, best known for the six-year-old track "Satisfaction," won for his remix of Public Enemy's rap classic "Bring the Noise," which is less noisy than stark. The Italian took the award from a pretty wide-open pool of nominees, though it's a bit surprising Eric Prydz didn't win for his mash-up track featuring Pink Floyd's "Proper Education"….
S.O.S. PLEASE, SOMEONE'S MISSING… Based on the Grammy nods, dance in 2007 was dominated by Timberlake, the Chemical Brothers and Benny Benassi. Sound about right to you? Well, there is at least one person missing. Little miss sunshine, Rihanna, were you at? She'll surely reign at the International Dance Music Awards next month in Miami, but Rihanna was shut out here. Her overplayed yet still charming song of the summer "Umbrella" wasn't nominated in either of the two dance singles categories. Out of a total of six nominations, Rihanna had to settle for only one statute, the song's nod as best Rap/Sung Collaboration, shared with her producer Jay-Z. "Don't Stop the Music" lost out to Timberlake as Best Dance Recording. This time next year she could get a nod for her current club hit "Breaking Dishes" or yet another track to come from the impressive and hit-laden Good Girl Gone Bad. Though by then, the prolific singer will be prepping to release yet another hit-laden album, her fourth in as many years. To think you'd never even heard of the just-turned 20-year-old only three years ago.
Other winners in non-dance categories with special resonance in clubland: Chaka Khan, whose histrionic vocal battle-off with Mary J. Blige "Disrespectful" — remixes of which were naturally popular in clubs — won for R&B Performance by a Duo or Group with Vocals; and Madonna, whose The Confessions Tour was a better club experience than most circuit parties, won best Long Form Music Video in honor of the concert DVD.
Finally, also worth noting is Spring Awakening's win for best Musical Show Album, and a Dreamgirls win for best song from a motion picture, for "Love You I Do," written by Siedah Garrett and Henry Krieger. After its songs were shut out of last year's Oscars even with three nominations, this Grammy win is at least some consolation….
Advertisement

| | | |
| --- | --- | --- |
| Dame Shirley Bassey: Greatest Hits (CD/MP3 download) | Justin Timberlake: Lovestoned/I Think She Knows (MP3 download) | Ultra Dance 9 (MP3/CD) |
BRASSY BASSEY IS BACK… Ladies and gentlemen, in the next few weeks you'll be hearing more from the only singer to record more than one James Bond theme song. Shirley Bassey, in fact, is for many the singing voice of Bond ("Goldfinger," "Diamonds Are Forever," "Moonraker"). But she's not currently set to sing more Bond — instead think Pink, as in the hip-hop-flavored pop star born Alecia Moore. Bassey, who recently turned 71, covers Pink's "Get the Party Started" on the title track to her first album in 10 years, due stateside next month. Bassey's version of Pink's biggest hit is melodramatic, as you might expect from one of pop music's most bombastic belters. To hear Bassey sing, with only a hint of humor, "I can go for miles, if you know what I mean," is, well, nothing short of silly. Surprisingly, Bassey only laughs once, after she has to sing "I'll be burning rubber, you'll be kissing my ass." Some will appreciate this — not to mention the exaggerated video — as high camp. But it just doesn't woo as much as it should for true devotion. Still, it's no surprise the song is climbing the club chart: Carl Cox does better than anyone could expect at making a flashy remix that actually moves you. Despite your reservations, he gets the party started all right.
Of course there's more brassy bombast — even more camp — where that came from. Get the Party Started features at least one other cover, this one an over-the-top take on Gloria Gaynor's over-the-top disco classic "I Will Survive." Hasn't it been covered enough? The album, according to Billboard, will also feature two new songs, including the hyperbolic "The Living Tree," with "Goldfinger"-esque dramatic orchestration to match Bassey's shouted lyrics about leaving an oppressive lover. There are also new remixes of several Bassey classics, including "Big Spender." Hopefully it won't be too much of a good thing — or just too much….
From YouTube: Shirley Bassey: Get this Party Started