Try as you might, you can't taste or smell Goldfrapp just listening to the British duo's music. You can't literally touch it, either. But even if you're not a synesthete — synesthesia being a neurological condition allowing one to engage multiple senses when the rest of the world only experiences one — Goldfrapp's music is an especially sensory-loaded experience. You can't help but see what Alison Goldfrapp is singing about, or singing like through vocal gyrations — a flute one moment, a bird the next. You can't help but get a feel for the time, place or direction Will Gregory is pointing to through his keyboard strokes and manipulations.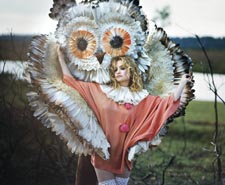 Sensory overload: Goldfrapp and Gregory
And once you hear it, you can't help but be moved by The Seventh Tree. Each album the duo has released in its noteworthy, nearly 10-year collaboration, is informed by — and improves on — the one that came before it. The Seventh Tree, the duo's fourth album, may have strayed from the disco-fired glam-rock of the album that gained it the most attention thus far. But no one who appreciated Supernature, which included club hits "Oh La La" and "Number 1," will fail to love the new set. The Seventh Tree harkens back to the chill-out ambience of the duo's first two releases, but only slightly. Goldfrapp has never sounded warmer or more engaged as here, on an album every bit as sensual as the duo intended it to be. Beyond the eccentric electronica that is Goldfrapp's signature, with particular influence from Björk and Kate Bush — the new album shows influence from late-Beatles, or even early-Pink Floyd. Call it psychedelic electronica, the perfect blend of old and new pop music that aims to heighten your senses.
The album kicks off with an atmospheric ballad, the sweet, sweeping soundscape of "Clowns," but it soon turns trippy. "Little Bird," about a nomadic woman, begins at daybreak, with a light, bright melody. The music and the temperature keep getting higher and higher as the song and the sun rises, until the heat of the day provokes the musical equivalent of a mirage. At that point Goldfrapp contorts her voice, fluttering it and flying it in a groggy haze.
The magical mystery tour continues to an even more dazzling track, "Happiness." The song features wobbly synthesizer chords, and giddy, rising chorus chants: "bah, bah, bah/bah, bah, bah" and "love, love, love." Goldfrapp once again plays with her vocals, here creating flute-like effects to welcome you to nirvana. But you can never let your guard down completely, Goldfrapp acknowledges through lyrics about the good and the evil in the neverending human quest for happiness. "Join our group and you will find, harmony and peace of mind," Goldfrapp sings, before instructing you to "give us all your money, we'll make it better." Later on comes the bright and bubbly "Caravan Girl," which by song's end is an intentionally over-the-top ode to escaping the moment. And here comes yet another giddy chorus, this time another "la-la-la" one.
Advertisement

| | | |
| --- | --- | --- |
| Roisin Murphy | Goldfrapp: The Seventh Tree (CD/MP3 download) | Hot Chip: Made in the Dark (CD/MP3 download) |
Also boosting the album's sonic palette is the band's use of greater and more diverse instrumentation. The band was inspired to create a warmer, more delicate sound after performing an acoustic radio session. As such, acoustic guitars are prominent here. But even more than that, the inclusion of several unusual instruments adds mystery to the whole affair. "Road to Somewhere," for example, features a steel-strung harp, which sounds little like what you expect from a harp. This harp is gritty, a bit dirty, more like an Indian sitar. Still more eccentric is the duo's use of a circa-1970 Mattel toy, an Optigan, or optical organ, which reproduces sounds from real instruments. On "Eat Yourself," the duo used a beat-up Optigan to play as if it were a folky guitar. The result is a very distorted, wobbly sound.
Goldfrapp
The Seventh Tree
Mute
In stores
Feb. 26

First single "A&E" is rockier than you'd expect from this duo, especially with its prominent bass guitar and staccato snare snaps. It sounds like where New Order left off. But the psychedelic reverie is here, too, with an exceedingly anthemic chorus to match lyrics about going overboard: "How did I get to accident, emergency? All I wanted was you to take me out high," Goldfrapp sings in her normal register — except for the last word. She sings "high" several octaves higher.
The album ends with "Monster Love," a magnificently grand track that is as full of sound as anything you'd find in the standard psychedelic pop repertoire. It's the perfect album closer here, and not just because it leaves you wanting more. As Goldfrapp sings in the chorus, "everything comes around, bringing us back again/here is where we start and where we end."
With music this great, you'll be content to listen to it over and over, until Goldfrapp comes around again.
From YouTube: Goldfrapp: A&E