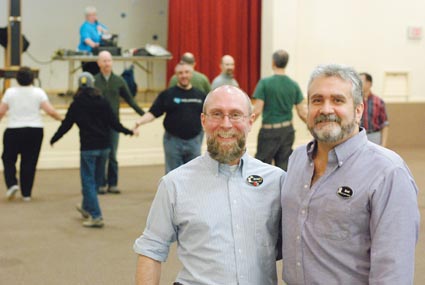 Brian Jarvis and Kent Forrester with the Lambda Squares
Regardless of where a person was raised, if that person is an American there's a pretty good chance childhood offered at least a scant introduction to square dancing in gym or music class. This dance — the official state dance of Maryland and more than a dozen others — is at least cemented deeply enough into our popular culture that few can hear the phrases "swing your partner" or "do-si-do" and not conjure images of square dancing, as accurate or as misinformed as they may be.
Do women in prairie skirts and petticoats come to mind? Maybe it's a fiddler with a corncob pipe?
Think of the Mid-Atlantic Leather Weekend and all the leather men and women in the vicinity of the Almas Temple at K and 14th Streets NW, site of the Mr. MAL contest. You know when leather comes to town. This weekend, Feb. 8-10, when the DC Lambda Squares play host to the East Coast's annual "advanced and challenge" square-dancing weekend at that same Almas Temple, locals will be hard-pressed to find any walking stereotypes.
Today's square dancers, the gay ones at least, are quick to distance themselves from the clichés.
"Many of the folks we're dancing with or calling with have never been on a farm," Brian Jarvis says with a smile. Originally from Canada, where he danced with Toronto's Triangle Squares, Jarvis, like his partner, Kent Forrester, has several local square-dancing affiliations. One of those affiliations is the DC Lambda Squares, with whom he dances and for whom he calls, meaning he serves as the person who offers dancers real-time, called-out instructions.
"If you go to our events, you'll see no bales of hay. We make a point of referring to our calling as a 'fiddle-free zone,"' he emphasizes, making reference to the library of music he and Forrester use as callers. "No fiddles, no accordions. It's just not going to happen. Just the other night, we were using 'Girls Just Want to Have Fun,' 'I'm Too Sexy,' 'Barbie Girl' — basically karaoke mixes of dance music.
"A lot of callers, particularly younger ones, will use disco remixes," he continues. "Some have a preference for electronica of various kinds. We do have some old country-and-western members who keep an inventory, just in case — God forbid — we ever get sucked into a guest spot with, say, some straight club or old-timers club, where it suits their atmosphere. We're contractors, so we do what the contract-issuer wants."
Forrester jumps in with another example of what happens when the gay and the square-dancing worlds collide: "We have a lot of callers who actually love to use the song 'Super Trooper' by ABBA, because it's exactly the right tempo and the girls' voices blend into the instruments. If you're on a microphone [calling], you can be heard over them clearly."
Walking into a recent DC Lambda Squares dance was a case in point. This particular evening was one of just a few Thursdays every year reserved for the "advanced" and "challenge" level dancers. Ett McAttee was calling and Latin rhythms, among others, filled the basement room at National City Christian Church at Thomas Circle.
"We're competing against all kinds of things to do that didn't exist just a few years ago," says McAttee, known in square-dancing circles as "Just Ett, hon," a nod to her Baltimore square-dancing roots with the Chesapeake Squares. "One of the slants of recruiting now is to present square dancing as a mind puzzle. Instead of hay bales and overalls, a 'yee-haw' image, we present it as a mind puzzle, an interesting, intricate thing to do. It is a slant that some groups are aggressively taking. If we don't, we're just going to die off. And square dancing dies with us."
McAttee's fears about the future of square dancing may have merit, but it's not a hobby that looks to be headed to the graveyard in the near future — not if the GLBT community is any indication. Consider this: The International Association of Gay Square Dance Clubs (IAGSDC) lists 63 clubs. Along with the DC Lambda Squares and the Chesapeake Squares, our region boasts Philadelphia's Independence Squares; the Raleighwood Squares in Durham, N.C.; and the Delmarvelous Squares in Rehoboth Beach, to name a few. Expand the search and you'll find the Edo 8s of Tokyo or Copenhagen's Mermaid City Squares.
While the clubs are one indicator of square dancing's popularity in the gay community, there is also the schedule of events. The upcoming "East Coast fly-in," known simply as "ACDC" (Advanced/Challenge D.C.), is just the start of a year of GLBT square dancing. The Chesapeake Squares offer "Pass the Ocean, Hon," an annual Rehoboth Beach dance weekend in early May, while in November it's time for the DC Lambda Squares' annual "Harvest Festival Hoedown" in Harper's Ferry. The queen of the crop, the IAGSDC's annual convention, will be coming to D.C. in April 2009 as the "D.C. Diamond Circulate."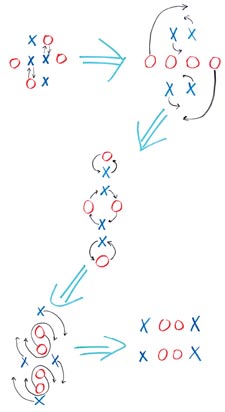 "We've got a set of events that we always go to," says Jarvis of the square-dance travel he and Forrester do in any given year as part of their part-time calling pursuits, as well as just for fun. "I added up something like 80 different gigs that we've traveled to in the past year. Local ones, distant ones. The ones we travel to, more than just Baltimore, probably average about one a month."
Between the number of clubs and events, there is no doubting that there is a niche within the GLBT community that is celebrating this piece of Americana with enthusiasm. But why? The gay community is full of clubs that offer dancing, and plenty of clubs that offer activities far removed from the club/bar scene. Just what is the particular appeal of square dancing, particularly for a gay crowd?
"I started doing this in 1994," says Abe Feldman, of Southwest D.C., recalling how a friend from Philadelphia had been telling how much fun he was having square dancing. When he spotted an ad for a DC Lambda Squares open-house night, he decided to give it whirl, though not necessarily with an abundance of enthusiasm.
"I was a little skeptical when I went," recalls Feldman, "just because I heard about the schedule of classes and it seemed like a lot of time to learn how to do it. I had done traditional square dancing in grade school, where you learn a routine and then you're doing it. With this, you take lessons for a while. But as soon as I started doing it, I was hooked. It was just so much fun. There's sort of this game between the caller and the dancers. The caller giving the calls in some predetermined order, but the dancers have no idea what's coming. And that's part of the fun of it."
A year later, Cissie Meza was walking through the 1995 Capital Pride festival at Francis Field. "[The DC Lambda Squares] had a demo square. It looked fun. After I saw them dance, I signed up and someone called me about classes…. Unfortunately, square dancing is not a spectator sport. Until you get in the square and move, you won't appreciate how much fun it is."
Meza has dabbled in line dancing, two stepping, salsa and ballroom dancing, but square dancing is her favorite.
"Square dancing has been likened to the chess playing of dance," she explains. As someone who works with numbers in a bank, it's not surprising that she may have an affinity for the patterns square dancing offers.
"It takes an analytical mind," she says. "It offers finite steps to achieve the final goal. You accomplish the goals given you in random order. It's its own language. Typically, a square dancer is someone who appreciates orderliness. Two stepping is free form. You do what you want. With square dancing, you're either doing it or not doing it. It's not everyone doing it for themselves.
"It's [also] easier, because there are seven other people. If a mistake is made, the other seven people continue to dance, and you figure out where you need to go. Whereas, if you were twirling me in ballroom dancing and I just kept twirling, it would be hard to gracefully jump back in. In square dancing, everyone is very accepting."
There are dozens of established calls — everything from "box the gnat" to "bend the line" to "Dixie style to an ocean wave" — creating a complex code memorized by callers and dancers, as variables to be plugged into any "tip," or piece of music, by the caller.
Looking at square dancing as something of a science, Meza's fascination makes sense. And consider this: Feldman is a computer programmer. Forrester minored in math. Jenkins works in computer engineering. McAttee is a scientist in spinal chord research. It's as though another pattern is emerging.
"I like the geometry of the figures, the exact spacing," says McAttee. "I also appreciate that it's a language. When I speak as a square-dance caller, I speak a specific language that only other square dancers around the world would understand. If I wasn't a scientist, I'd be a linguist…. There are a lot of us, gay and straight, who in our real jobs are scientists, mathematicians, musicians, who have a sense of symmetry, geometry. We're not all from the scientific community, but a lot of us are.
"The scientific ones want to nail a spot on the floor. They know where they are, spatially. Whereas the artists are the ones who want to keep the flow, keep with the music. Both groups bring their strengths."
And while an affinity for the formulaic may have drawn plenty of people — gay or straight — to the square, the gay ones may be transforming it, by more than ABBA and other disco beats alone. They're even attracting straight dancers into the fold.
"ACDC gets a fair number of straight people," says Feldman, explaining that at this higher skill level, the dances tend to be less gender-specific than at the more novice levels. "Those [lower-level dances] usually involve swinging your partner; you catch someone in your arms. There's more worry about the gender of the person you're swinging. We don't really do that in 'advance' and 'challenge' [levels]….
Related Dates:
· East Coast Annual A/C Weekend (ACDC), Washington: Feb. 8-10
· "Pass the Ocean, Hon," Rehoboth Beach: May 2-4
· Harpers Ferry, W.V., Hoedown: Nov. 7-9
· DC Diamond Circulate: April 9-12, 2009
"[And] in gay square dancing, we're a little more open to trying different things. It uses the same vocabulary of calls, of course, but it's not as couples-oriented as straight square dancing. And with men and women dancing either the girl's part or the boy's part, you get a lot more flexibility of who you dance with and the experience of it. In straight square dancing, a couple will show up and they'll spend the whole evening together. With us, we actually encourage people to dance with different people every tip. You can ask someone to dance, or you can just go into the square by yourself and hold your hand out, and someone who's looking to get into the square will just come up and stand next to you, and that's your partner."
Along with the new beats and the abandonment of gender-specific roles, GLBT square dancers are also injecting the square-dance community with their signature attribute: gaiety.
"One of the big differences is the enthusiasm level," explains McAttee, who danced in her first square 20 years ago. "The gay crowd loves dancing for what it is. The straight groups are enthusiastic about their dancing, but they're very sedate about it. We have verbal flourishes, fun we make with the calls."
Certainly, it's not your grade-school square-dancing class. The DC Lambda Squares do, however, offer classes. And the next set is scheduled to have any newbie ready to square up in time for the Chesapeake Squares' Rehoboth weekend in May.