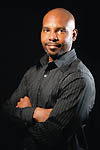 Ray Daniels
[File photo by Todd Franson]
D.C. Black Pride has donated 14 bags of coats, about $1,000 and food items to Damien Ministries, collected during a Jan. 31 coat drive at Mahogany Restaurant and Lounge, 2001 11th St. NW.
"It was a very successful event," remarked D.C. Black Pride Vice President Ray Daniels. "I think that quite often, people in all communities focus on charitable contributions and donations of food and clothing during the holiday season and forget about the…months that follow when the cold weather really kicks in. So we wanted to have an event to let the community know that we are active all the time."
Damien Ministries is an HIV/AIDS organization in Northeast that is inspired by the Catholic Church.
"It's an organization that we've worked with before and we respect them and the work that they do," Daniels said, adding that some proceeds from D.C. Black Pride's Memorial Day weekend event were donated to two other local, non-profit organizations: Transgender Health Empowerment and Different Avenues.
"I'd like to stress the fact that we made the donations and ask that people continue to support us," Daniels said. "Ultimately that is our purpose for organizing the Memorial Day activities."