When it comes to the Lexus line-up of sedans, the best things tend to arrive in the largest — and smallest — packages. And while the top-of-the-line, oversized Lexus is certainly the company's biggest luxury offering, the IS 350 has plenty to offer itself in a smaller, sportier, yet still luxurious, package.
And it's about half the price, to boot.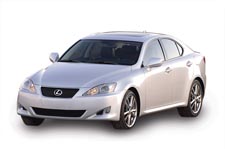 Lexus IS 350
The IS sedans have long been the Lexus version of sporty European sedans such as the BMW 3 series — although you can't take the comparison too far, given that the IS 350's smooth and quiet ride pretty much precludes the "road feel" the German automaker prides itself on. Still, unlike its larger brethren, the IS 350 is just as fun to take through a series of back-road twisties as it is to cruise serenely down the Beltway.
It helps considerably that the sharply styled IS sports an aggressive stance, with the low-slung nose propelling it forward and the narrowly slanted rear-taillights offering up a challenge to those behind. Although you'll see a lot of silver and red when it comes the IS's exterior paint, it looks best in basic black.
Inside, the vaunted Lexus quiet makes for a comfortable ride, as does the well-appointed driver's seat. The smaller size of the sedan leaves less room for the passengers in the back, but it's not overly tight.
2008 Lexus IS 350
Price: $35,905 ($44,828 as tested)
MPG: 18 city/25 highway
Highlights: Strong mix of sporty handling with quiet comfort; sharp and
aggressive design.
Lowlights: Interior design, especially the console, feels a bit dated.
The IS essentially shares a center console design with other Lexus (and Toyota) models, and it feels a bit dated, particularly for a car that's designed for exuberance. Climate, navigation and sound system buttons are placed on both sides of the video screen, which makes changing options more challenging than it should be while driving.
If you're looking for a sporty sedan that incorporates a bit of luxurious comfort, the IS 350 may be your best find.