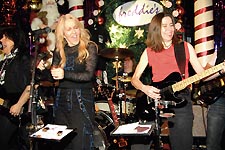 Wicked Jezabel
[file photo / Henry Linser ]
Forget the Grammy Awards. In D.C., it's all about the Wammies, the Washington Area Music Awards (WAMA), which recognize significant career achievements by area musicians. On Feb. 17, the 22nd Annual Wammies honored the six women who comprise Wicked Jezabel. They are: Davi Anson-Dross, Pauline Anson-Dross, Ginger Starling, Mickey Dehn, Sandy Dumas and Meri Schaefer. The big-haired, all-lesbian cover band won in the category of "Best Hard Rock Duo/Group," against a handful of local bands.
"We really made some Washington history here," says Pauline Anson-Dross, who sings and plays guitar with the band. "We're probably not only the first all-female band to win a Wammie, but we're the only all-lesbian band to win a Wammie in 22 years."
Anson-Dross says in addition to "rocking the Mid-Atlantic," Wicked Jezabel plans to release its first CD sometime this year. The band currently has demos and music available online. "We're in the process of putting something together," Anson-Dross says.