Michelle Burleson didn't choose to become a songwriter. It chose her.
She can't explain why it happened, but it was sometime in between admiring the Mandrell Sisters on their early '80s TV show, and being annoyed by an older brother, that a 9-year-old Burleson found a notepad and penned her first song, "Charlie is a Homie Domie."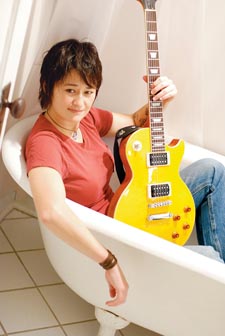 Michelle Burleson
"It's just about what a dork I thought my brother was," Burleson says with a laugh, adding that she's clueless on what "homie domie" means.
The 34-year-old lesbian, who lives in the Del Ray neighborhood of Alexandria, hasn't stopped writing. But these days Burleson focuses on the trials and tribulations she faces on the day to day, including a lesson she learned earlier in her career: "Don't sleep with people in your band."
It was Burleson's rocky relationship with a former bandmate that left her feeling "suffocated" and artistically drained.
"I didn't have a lot of creative control and I just came to a point where I was wiling to throw everything away and say, 'Fuck it, I'm going to do what I'm going to do.'
"It took awhile to put my life back together, but I have, and I think it's made the music 10 times better."
Starting anew is the subject matter of Burleson's second offering, The Best Thing I Never Heard, an 11-track album she'll begin recording later this month. "It's about coming into your own, about becoming who you are, and being fine with that."
Originally from Honolulu, Burleson, a "military brat" who has lived in Bangkok, Mississippi and Korea, was exposed to classic country music at an early age. She also acquired a sense of humor, which she uses today in singing about being gay.
"I have a song called 'Lezzies for the Lord,"' she says. "We kind of wrote it as this old-time country church song, which just basically makes fun of the hypocrisy in Christianity towards gay people.
"Most of my songs are very tongue-and-cheek," she continues. "Sometimes people get it and sometimes people don't."
Michelle Burleson will perform on a bill including The Cliks and Mara Levi, Wednesday, Feb. 13, at 8:30 p.m., at DC9, 1940 Ninth St. NW. Tickets are $10. Call 202-483-5000 or visit www.dcnine.com.
Advertisement

| | | |
| --- | --- | --- |
| kd lang: Watershed | Mara Levi: Who are you? | L Tunes: Music from the L Word (including The Cliks) |