Need a caffeine fix? We have a variety of solutions, be they automated or a twist on the old-fashioned. No matter which one you choose, you're guaranteed a great cup'a joe every time.
Under Pressure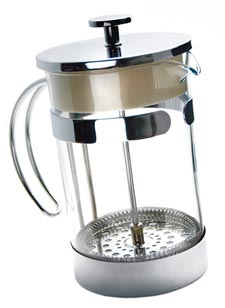 Norpro: French Press
Arguably, the French press is the most environmentally friendly coffee maker available. No disposable parts and it can take boiling water from any source, be it gas, electric, solar or cold fusion. When the elegance of simplicity is produced with Norpro's style, the result is pure sophistication. An added bonus of straining one's coffee rather than filtering is that more of that yummy, syrupy, coffee oil survives the process. And no more guessing if you've thrown in enough ground coffee — just watch the swirling mix of bean and boil till it's dark enough for your liking. Available at Housewares, above True Value, 1623 17th St. NW (202-745-3538), in models offering three, six or eight cups from $23 to $39.99.
Dosing with T Discs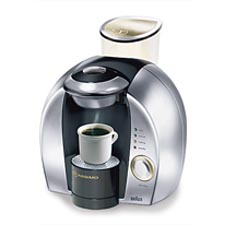 Tassimo: Hot Beverage System
Don't call the Tassimo Hot Beverage System a "coffee maker." It is much, much more. Yes, it makes tea, hot chocolate, iced lattes and other drinks, but for coffee lovers, it really is the best thing to wake up to. Whether it's Maxwell House, Starbucks or the irresistible taste of Seattle's Best you crave, the Tassimo gives you the option to make one cup at a time with "T Discs." These easy to use pods snap into the Tassimo machine and when the red light turns green, a hot cup of coffee is just a button away. The Tassimo also offers espresso discs: cappuccino anyone? Pick one up at Bed Bath & Beyond, 709 Seventh St. NW, for $169. Or find it online at www.tassimo.com.
Butterfingers' Brew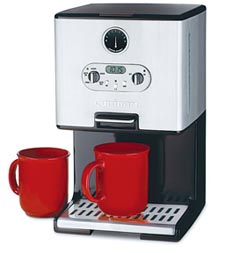 Cuisinart: Coffee on Demand
No one wants to start his or her day with a smash, but in this age of glass coffee carafes and granite countertops, more than one morning has been ruined by a heavy hand and shattered glass. You know who you are. You could replace it, you could go for a metal carafe, or you could cut out the middleman altogether. Cuisinart's Coffee on Demand 12-cup coffee maker holds a hot reservoir of brewed coffee, awaiting finger-touch dispensing. Cleaning couldn't be easier when you just lift out the reservoir and filter for a quick rinse. Available online at www.bedbathandbeyond.com for $99.99.