As a younger, more inexperienced man, I often dismissed Volkswagens as a collection of odd bugs and rabbits, with a hippie van tossed in for good measure. It wasn't until some time later, while sharing a house with a loyal Volkswagen driver, that I discovered there was more to the story.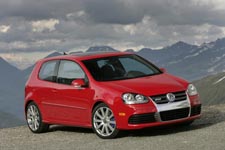 Basically, once I started borrowing my friend's Jetta, I couldn't stop.
Volkswagen fans are a loyal lot, whether for the studied quirkiness of the New Beetle or the vaunted "road feel" of the Jetta and Passat.
Those looking for a big league pocket rocket, however, will find their loyalty won by the Volkswagen R32, a 250 horsepower, all-wheel-drive hatchback that's built for speed. A more powerful older sibling of the already popular GTI, the R32 sits lower and stretches wider for a slightly more aggressive look. The horizontal chrome swath through the grille also separates the R32, and tones down the gaping-mouth look sported by the GTI.
2008 Volkswagen R32
MSRP: $32,990 ($35,430 as tested)
Gas mileage: 18 city/23 highway
Highlights: Loads of power and performance in a practically proportioned car.
Lowlights: Interior design feels a step behind the performance; pricey.
As it's meant to be, the R32 is a blast to drive, with tight handling and strong breaks to help keep you in control. And by packing the performance into a small stature, the R32 is also a handy urban/suburban ride, easy to squeeze into parking spaces and navigate through traffic. Of course, the performance comes at a premium — the R32 starts north of $32,000.
On the inside, things swing a little heavily to the boy racer design school, with tons of black set off by glowing red instruments, with a handful of aluminum highlights. Not the most original approach, but not off-putting. The seats, however, provide excellent support both to the back and to the sides, keeping you firmly in place while you figure out just how tight you can make that corner.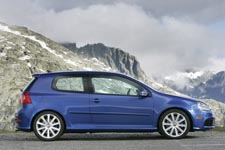 One word of warning: the R32 debuted for 2008 in a limited run of 5,000, so be ready to put in some extra time tracking one down. Otherwise, you might have to wait a few months until the 2009 models come along.
It could well be worth it.