Should you attend any of this weekend's performances by the Merce Cunningham Dance Company, you will upon entry be handed an iPod Shuffle. You don't get to keep it — it's a loaner — but you'll need it to fully experience the score to EyeSpace, Cunningham's latest work.
Here's the kicker: There are 10 tracks composed by Mikel Rouse on the Shuffle, and each audience member will hear, for the length of the 20-minute piece, anywhere from two to five different tracks of the score. Explains Merce Cunningham Dance Co. Executive Director Trevor Carlson, "Each audience member gets a different sound experience" as they watch the dancers on stage.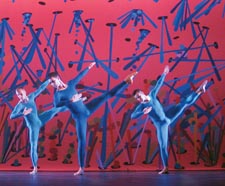 Merce Cunningham
(Photo by Anna Finke)
This mix-mastering of traditional artistry with cutting-edge technology is a trademark of the legendary choreographer, who turns 89 on April 16. Despite his age, Cunningham is still going strong, his choreographic ideas aided by computer software allowing him to map out complex dance moves and then use them to instruct his troupe.
The software, called DanceForms, says Carlson, "came around at a point in time when Merce was less able to rely on his own body to develop movement. He was able to come into the studio with material already sort of realized, or at least in the first phase, and then able to see how it translated to their bodies and what they then did with it." CRWDSPCR, a 1993 piece for which Cunningham first used the program, is on the weekend bill, along with a piece from the '70s entitled Second Hand.
Carlson marvels at the octogenarian's philosophical approach to technology.
"Merce really, truly, deeply believes that if you say 'no,' you close the door. But if you say 'yes,' you might come up with something greater than you ever thought was possible. And it's in the same 'yes' that we find ourselves answering to requests from collaborators or computer scientists or people working with light technology or sound technology, who come to us and say, 'We've got this great idea, it would be perfect for Merce.' There have been a number of occasions where Merce has been at the forefront of technology and ideas."
The Merce Cunningham Dance Co. is presented by the Washington Performing Arts Society at the Sidney Harman Hall, 610 F St. NW. Thursday, March 27, to Saturday, March 29. Performances at 8 p.m. Tickets are $25-$70. Call 202-785-9727 or visit www.wpas.org.