Army Sgt. Darren Manzella could be the all-American poster boy for Army recruiting. The 30-year-old speaks softly with a polite charm that seems to reflect his unpretentious roots.
"I was homecoming king," he says with a slight, humble laugh. "I was just the average boy from my hometown. I played football. I worked on the farm with my dad and my brothers. "
Though technically a vineyard, as the family grows grapes, talking with Manzella makes it obvious that there's no trace of wine-snobbery behind the camouflage. He exudes red, white and blue, down to his Portland, N.Y., pedigree.
As a health care specialist, Manzella has served his country in Iraq and Kuwait, having twice been deployed to the Middle East since joining in the Army in 2002. The Army has commended his wartime efforts, awarding him the Combat Medical Badge.
Manzella returned from that second year-plus deployment in December 2007. The second time around, however, Manzella served as an openly gay soldier, having come out after the first tour. That openness led to anonymous calls and e-mails, Manzella says, advising him to be less open. The anonymous advisements prompted Manzella to lay everything out for his superiors, even supplying them with evidence of his then relationship with another man. Despite an investigation, the Pentagon seems to have found no evidence of Manzella being gay.
Emphasizing the Pentagon's apparent desire to ignore Manzella's noncompliance with the so-called "Don't Ask, Don't Tell" policy, CBS' 60 Minutes aired an interview with Manzella Dec. 16.
Last week, Manzella, the special invited guest at this Saturday's Servicemembers Legal Defense Network 16th Annual National Dinner, spoke to Metro Weekly by phone from his current posting at Fort Hood, Texas, where day by day he continues to do his duty.
METRO WEEKLY: Lesley Stahl ended her mid-December 60 Minutes segment on you — and the other gay military service members — noting that you expected to be discharged from the Army due to the report. You're still serving?
SGT. DARREN MANZELLA: As of this moment, I'm at work. I've been coming to work every day. I have orders to go to Fort Drum in May and start a position at the hospital.
MW: What sort of feedback have you gotten from fellow soldiers since that interview?
MANZELLA: My peers, my co-workers, are very supportive. They thought it was a very courageous thing for me to do. They're proud of me for speaking out for so many people who are silenced by the policy.
I think they may be as surprised as I am that I haven't heard any type of response from the command. But, as I said, it hasn't made a difference. I'm here at work every day.
MW: Nobody has called you a "faggot," nothing like that?
MANZELLA: I haven't had any negative encounters like that whatsoever.
MW: Does that surprise you?
MANZELLA: I'm learning not to be surprised anymore by anyone's reaction — or lack thereof. [Laughs.]
I don't know if I should say I expected it, but I was cautious that there might be some negative feedback from some of my fellow soldiers. But it makes me realize that they're more accepting than the older generation. We're equals. We're there fighting side by side — gay or straight, man or woman. They're risking their lives and possibly saving yours, and that makes much more of a difference than sexual orientation.
I think it's the opinion and view from the older generation that it affects unit cohesion. In my opinion, I think it helps unit cohesion. When someone can be that open and honest with someone else, then we don't have these lies or misconceptions that build walls between us.
MW: What about feedback from the general public — to your SLDN e-mail account, for example?
MANZELLA: I get quite a bit of e-mail, from civilians and military. I have military personnel looking me up on my Army account and writing me, thanking me for standing up. And these are gay and straight service members.
And I've gotten e-mail through SLDN. I had one from a counselor who said he wanted to use my story to help these young individuals who struggle with their sexuality, to say, you know, you can be proud of who you are.
I've received messages from just about every rank, every branch of the military. It's all been very positive, very supportive. And, again, they weren't all gay and lesbian service members, either.
MW: You must've gotten some flak from somebody, even if it's just Fred Phelps.
MANZELLA: I'm not getting any. I haven't received any threats, verbal or physical. I haven't received any negative e-mails. That's why I'm hoping that making my voice heard and taking a stand will help society as a whole to realize that the policy is outdated and needs to be repealed.
MW: When did you first tell someone else you were gay?
MANZELLA: I was just out of college, in my early 20s. I told some friends back home shortly after I graduated.
MW: What was their reaction?
MANZELLA: I think they knew. They weren't very surprised. They were far more surprised that I was finally admitting it.
MW: Was it a short step from there to coming out to your parents?
MANZELLA: It was a long step. I told very few people. I didn't tell my parents till I was 28. They were 100 percent supportive. They were concerned for my happiness. When I could admit it to them, they could see the relief in me for finally being open to them. I think our relationship continues to get stronger and stronger ever since I told them.
MW: Do you think, like your friends, that they already had some idea you were gay?
MANZELLA: They claim they didn't. I don't know if I believe that, necessarily, or not. [Laughs.]
MW: How did your parents react to you joining the Army?
MANZELLA: I joined the Army before I came out to them. My mother was concerned — just like most mothers are when a son or daughter joins the military — about me being put in a harmful situation. But when I looked over the pros and cons and explained them to my mother and father, they were supportive.
I don't know that it took anybody by surprise. I was surprised myself. I'd never pictured myself joining the military. I'm sure other people who knew me had the same feeling.
MW: What prompted you to join? Was it for financial help with school? This was also not long after 9/11.
MANZELLA: It was a combination. It was a few months — six or seven months — after 9/11. I was paying college loans, and my recruiter told me I could get my loans paid for by joining the military. I was sure of the direction I wanted to go in with my career, and this was going to guarantee me a medical position.Like I said, when I looked at the pros and cons of joining the military — the experience I could get, the training I could get, and the service I could give to the country — it made sense for what I was going to do for the future.
MW: When you weighed those pros and cons, where did your sexual orientation come into it?
MANZELLA: At that point, even though I had told a few of my friends from high school, I was still unsure about it — or, I wasn't completely sure of it. Before I could be open to people about it, I had to make sure that I knew for myself, and I just wasn't at that point yet. That just kind of pushed it to the back burner.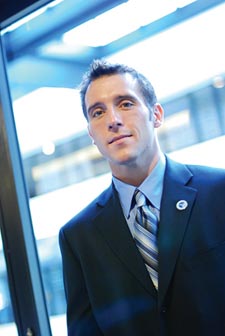 Sgt. Darren Manzella
MW: Once you were serving, did your sexual orientation keep knocking on the door, so to speak, demanding your attention?
MANZELLA: Not really. To be honest, when I finally opened my eyes and accepted it was after my first deployment to Iraq. That environment, the hostile environment, to be under fire and saving lives, that really opened my eyes to how you should live life. That's when I started respecting myself more. I thought, "Why am I lying to myself? Why am I lying to these people I love in my life?" At that point, when I returned [to the United States], I started being more open and honest about myself. It snowballed into coming out to my family and my friends.
MW: During your first deployment, did you meet other gay soldiers?
MANZELLA: I really can't recall that. It's not something that stuck out in my head.
MW: Because you were closeted, no one recognized you as gay?
MANZELLA: No. It was a very close-knit group. It was more of a brotherhood. Everyone's looking out for each other, everyone's concerned for each other.
MW: Did you witness any attitudes among your fellow soldiers that told you coming out as gay might be met with hostility?
MANZELLA: No. And actually, the first person I came out to [in the Army] once we came back was my roommate. He was my roommate throughout my tour in Iraq. He was still in my unit, and I was living with him back here in Texas. He's the first one I told. He was completely supportive. He didn't care. He loved me. I was like a brother to him. It didn't make a difference.
MW: During your second tour, you were openly gay?
MANZELLA: I was open. My command knew. The majority of my friends, peers and co-workers knew.
MW: Your openness was sparked by the anonymous messages you were getting to "turn down the flame "?
MANZELLA: What prompted me to admitting it to my supervisor was I was telling him about these phone calls, kind of confiding. That turned into me being reported to [the Judge Advocate General's Corps] and my commander, and the investigation being initiated.
MW: Do you have any idea why those messages were coming in?
MANZELLA: I don't know why. I don't know who called or sent the e-mail.
MW: How surreal is it to continue serving while being so openly gay? It's as if you're the only openly gay service member, but suffering no apparent repercussions for being out.
MANZELLA: I'm not sure how correct it is to say I'm the only one, but I'm likely the most publicly known. [Laughs.]
It does seem surreal sometimes. Sometimes I have to sit back and think, "Did I really do this interview with 60 Minutes? Did I really go speak in Washington, D.C., about this policy?" And, yeah, there really have been no repercussions for it.
MW: Not only no repercussions, but a Pentagon finding that despite all the evidence laying on the table, you're not gay.
MANZELLA: I can't speak for my command, for them to say it's not there. I really don't know their standpoint, or what level they're at.
MW: When did you start working with SLDN? How have they helped you?
MANZELLA: I started speaking with SLDN when I started receiving the e-mails and the phone calls that led to my coming out to my supervisor. They've been right by my side the entire time.
I've spoken with them throughout my deployment. I went out and I visited the organization and I met the staff when I returned from my deployment. I continue to speak with them weekly. They're very helpful. They let me know any kind of risk that's associated with anything that I do. They're like a big brother to me. I know they're looking out for me all the time.
MW: If SLDN didn't exist, how would you manage all this?
MANZELLA: I don't know. I don't really think about that. I'm glad I didn't have to.
The military, they do offer legal services, but it's comforting to know that an organization with such dedicated people is available for this specific purpose. When I met Kathi [Westcott], my attorney, I didn't feel like she was only my attorney. She was there to safeguard me, to make sure I was looked after. They prepare me for any situation that may arise.
MW: Have you written your speech yet for the SLDN national dinner?
MANZELLA: I'm always thinking about it, but I haven't gotten as far as I should have at this point. [Laughs.]
MW: Will you definitely be allowed the time off?
MANZELLA: That's always a factor in the military, but I've put my request in so I can get my time off from work. My plane reservations are set. I'm expecting to be there, but I can just never 100 percent confirm that I will be there.
MW: If your sexual orientation continues not to be a barrier to your military career, how long do you plan on serving?
MANZELLA: I've looked at programs that would involve me staying in the military till retirement. My current enlistment isn't up until 2011, so I still have a few more years.
MW: So the Army suits you?
MANZELLA: I think so. My training, my experiences, the people I've met, are things I never expected I would have in my life. I was definitely lucky to continue serving my country, and the medical field is something I'm very passionate about. I just can't compare it to anything else I've had in my life.
There's uncertainty, but there's uncertainty in all aspects of life. I tend to take it not day by day, but situation by situation. I go into work every day and I do my job the best I can.
Unite: SLDN's 16th National Dinner & Silent Auction, will be held this Saturday, March 8, from 6:30 to 10:30 p.m. at the National Building Museum, 401 F St. NW. Attire is business formal. Tickets start at $250. For more information or to reserve tickets, call 202-328-3244 or e-mail sldn@sldn.org.