No one is more surprised by how quickly DJ Jerome Farley's solo career is rising than, well, Jerome Farley.
"I have to tell you, I feel like a little kid," Farley says. "I've had so many great things happen to me in such a short period of time." Farley was Junior Vasquez's manager and creative right-hand man for the last 10 years. Farley only announced he was striking out on his own less than a month ago. He's already got several major productions in the works, as well as several major DJ gigs, including his hometown debut at Town this Saturday, March 15.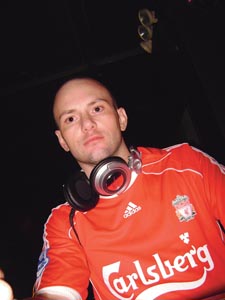 DJ Jerome Farley
A native of Greenbelt and a graduate of the University of Maryland, the 35-year-old Farley says he "learned to DJ by listening to [Town's] Ed Bailey when he was a DJ at Tracks."
Saturday's appearance will be the first time a DJ has fully utilized the club's multimedia capabilities. Town has installed technology allowing a DJ to manipulate video as well as audio. Farley has created about 20 video dance remixes, using images from music videos and other sources. He may also weave in live shots from a club-wandering video camera. "The chunk of the night won't just be club remixes played back to back," Farley says. "There will actually be a full visual experience to accompany them."
Farley's willingness to experiment with multimedia is one thing that differentiates Farley from his mentor, and one of the reasons he parted ways. After having a hand in every remix and every song Vasquez created and played, Farley finally decided "it was time…to graduate and move on and do my own thing."
Farley's own thing draws as much from Vasquez as it does D.C.'s own Deep Dish and Jean-Philippe Aviance. He also cites influence from Danny Tenaglia, Tom "Superchumbo" Stephan, Chus & Ceballos and Masters at Work. In addition to current productions from peers such as Fedde Le Grand that "make the dance floor explode," Farley says he'll be playing songs from his Vasquez-stamped treasure chest.
"I have all of the unreleased super-anthems that I know will completely turn out that component of the dance floor looking for the Junior experience."
Jerome Farley spins this Saturday, March 15, at Town, 2009 Eighth St. NW. Doors open 9 p.m. Cover $12. Visit www.towndc.com.