Born in 1945 to a father who was a German immigrant baker and a mother who was an African-American cleaning woman, Frederick August Kittel would grow up to become the playwright August Wilson. Before his death, Wilson would complete a stunning 10-play cycle that would come to be known as "The Pittsburgh Cycle." Each show, all but one set in the artist's western Pennsylvania hometown, takes place in a different decade of the 20th century, from 1900 to 1990.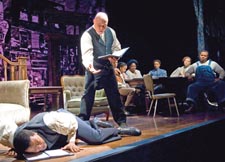 August Century: Joe Turner's Come and Gone
Certainly less challenging than writing these works though perhaps only slightly less monumental is the John F. Kennedy Center's decision to mount staged readings of all 10 plays between March 4 and April 6. Starting April 1, hearty souls can take on a pilgrimage of sorts and see the entire "Pittsburgh Cycle" in a single week. (You'll need to take in both the Saturday and Sunday matinees and evening shows.)
Why take on such a massive undertaking?
The easy answer is to say that August Wilson is one of America's most iconic playwrights. Truly, the collected works of very few modern playwrights would be considered attractive enough to warrant extended attention by such a nationally significant institution.
Wilson is also one of theater's most critically recognized artists. Before liver cancer took his life in 2005, the playwright won two Pulitzer Prizes, a Tony Award, two Drama Desk Awards, three American Theatre Critics Awards and an astounding seven New York Drama Critics Circle Awards.
AUGUST WILSON'S 20TH CENTURY
To April 6
Kennedy Center
Terrace Theater
$65
202-467-4600
www.kennedy-center.org
Awards aside, these readings offer audiences the opportunity to appreciate what an astonishing dramatist Wilson was. While Tony Award winner David Gallo and designer Reggie Ray have lavished their respective attentions on the set and the costumes, the rich but spare presentation puts the full spotlight on Wilson's words.
Indeed, at the curtain call for a recent, entirely wonderful performance of Joe Turner's Come and Gone, the cast held their bound scripts aloft so that the texts themselves could enjoy a bit of the audience's grateful applause.
The Kennedy Center's program has the plays appearing in their decade order, which is not the order in which they were actually written. It is generally accepted that the concept of the full cycle was not arrived upon by Wilson until 1982 with the Pulitzer Prize winning Ma Rainey's Black Bottom. Set in 1920s Chicago, Ma Rainey is the only play not set in Pittsburgh.
Drawing on the talents of seven directors with Kenny Leon of Atlanta's True Colors Theater Company serving as the event's artistic director, the Kennedy Center will host staged readings of: Gem of the Ocean (March 30), Joe Turner's Come and Gone (March 30), Ma Rainey's Black Bottom (April 1), The Piano Lesson (March 13, 15 and April 2), Seven Guitars (March 14-16 and April 3), Fences (March 16, 18, 19 and April 4), Two Trains Running (March 20, 21, 25 and April 5), Jitney (March 22, 26 and April 5), King Hedley II (March 23, 27 and April 6), and Radio Golf (March 28, 29 and April 6).
With settings ranging from a boarding house to a recording studio to a taxi cab to an aging diner, the world Wilson's "Pittsburgh Cycle" portrays is as broad and all-encompassing as the century it spans. If you are already a fan of the playwright's work, this is the equivalent of having Haley's Comet make a long, slow appearance every night for a month.
If you have not spent time in a darkened theater listening to Wilson unwind the rich, complex history of the African-American community, or if your experience only includes the better known works such as The Piano Lesson or Fences, now is your chance to discover why Wilson's voice is one that continues to resonate across the centuries.