The District is familiar with Black Pride. After all, hitting its 18th year in 2008, the DC Black Pride festival is the nation's oldest, a point of pride for the nation's capital regardless of race, sexual orientation or gender identity. But as the organizers of DC Black Pride's eponymous Memorial Day Weekend celebration use these next few weeks to prepare for this gathering of locals and out-of-towners alike, they're finding there is one very substantial, not entirely welcome guest: Chocolate City Fest 2008.
Where Daryl Wilson Promotions was once a promotional partner of DC Black Pride — last year alone responsible for the Black & Sexy party, the Black All Over party, the Dreamboys performance, and Patti Labelle and Jennifer Hudson at Love Nightclub — the company is now unleashing its own slate of Memorial Day Weekend events aimed at the African-American GLBT community.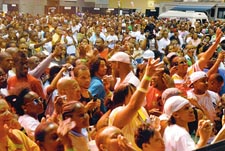 "For the last many, many years I've worked alongside, in conjunction with, the DC Black Pride board," says Wilson. "I've just seen a breakdown in the way they promote D.C. The numbers have dropped tremendously. You don't have anyone out in the market promoting DC Black Pride. You don't hear from them except once a year."
Wilson says that DC Black Pride faces increased competition from new Memorial Day Weekend events for the black gay community in Miami and Cancun, but isn't meeting the challenge with the same measure of flash and fun provided by these tropical, for-profit gatherings.
And now DC Black Pride will be challenged by Wilson's Chocolate City Fest as well.
"I'm offering something for people who know my events," Wilson says. "I decided to just launch my own weekend. Hopefully it will breathe some life into the city."
Over at DC Black Pride, perceptions are not exactly aligned with Wilson's.
"We were made aware of plans on his Web site, of an event that looked very much like our event," says Courtney Snowden, current president of DC Black Pride, recalling events from late 2007. "Initially, his site was called 'DC Black Pride.' We called him and let him know that was not appropriate."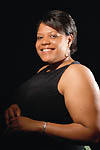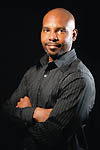 Snowden (upper) and Daniels (lower)
[File photos from 2007 Black Pride Guide]
Snowden says she had a long conversation with Wilson about the possibility of working together, but Wilson "was unwilling" to sit down and discuss the issue with the board.
"[Wilson] was committed to maintaining his event, unwilling to look at a way to maintain the success of both events or one collective effort," says Snowden.
DC Black Pride Vice President Ray Daniels says he was shocked upon learning of Wilson's move, adding, "For him to create a series of events and activities, it felt like a personal attack. It's a little hostile."
Daniels notes that other party promoters have planned activities, but not on the same scale having a host hotel and offering similar events to those offered by Pride.
"We've seen nothing like this," says Daniels.
As it stands, in roughly two months, D.C. will see two complete and independent black GLBT spectaculars: two different host hotels, two different headliners, two different weekend passes, and so on. The differences between the two are vast or minute, depending on how closely the DC Black Pride Celebration and Chocolate City Fest 2008 are compared: The former is a community-based, non-profit effort, with a mission of supporting African-American HIV/AIDS organizations in the metro area, while the latter is a for-profit enterprise, which has announced that proceeds from events will benefit area HIV/AIDS organizations.
Jansi LLC, the company that publishes Metro Weekly, is contracted by DC Black Pride to publish the Black Pride Guide for the festival.
Chocolate City Fest has announced its full nightlife lineup, including Stephanie Mills, Daryl Stephens and Remy Ma. DC Black Pride has not yet posted a full nightlife schedule, though organizers did announce Tuesday they have secured a performance by Fantasia.
While still pulling together the nightlife lineup, DC Black Pride has offered many of the other events on the schedule, including an interfaith service, a town-hall meeting and the Health & Wellness Expo.
Despite the competing program, Snowden says DC Black Pride has little to worry about.
"We have an 18-year track record that draws a larger crowd every year," she says. "We had 35,000 people [attending Pride events] last year. I don't think our success has dwindled. I think we've only become more popular. I'm excited that the numbers for our host hotel are high — room blocks will likely be filled in the next couple weeks."
The upside, both Snowden and Wilson agree, is that having two large celebrations — albeit, not affiliated — may serve to make the District a greater magnet for those who may otherwise be heading to Miami or Cancun. Another point of agreement seems to be that neither Snowden nor Wilson is ready to write the other off entirely.
"I'd never rule out any opportunity to work with someone," Snowden insists. "It's frustrating that we had to distract some of our attention. It's frustrating he doesn't have the same community-mindedness. But I don't have a negative thing to say about him."
Says Wilson: "I'm not closed to where I would not work with them."
What Washington witnesses on Memorial Day Weekend may be a sign of things to come. First Miami had Sizzle. Now it also has Sizzle Her. And Cancun has "Walking on Sunshine." The African-American GLBT community is just that — a community — but it is also a market.
Snowden says that while there was a sense of "urgency" surrounding the first DC Black Pride Celebration in 1991, "There are more opportunities now for gay, black people to come together."
Or, as Wilson observes with an entrepreneurial eye, "It's just a different demographic of kids out now. It's a whole new breed, kids who have no idea of the foundation or the history of this stuff. They just want to know where the party is."
Whatever a community's currency, there's no doubting there will be something for everyone come late May. Whether or not it's a sustainable formula remains to be seen.
For more information about DC Black Pride, visit www.dcblackpride.org. For more information about Chocolate City Fest 2008, visit daryl202dc.com.