Through much of South Asia, from India to Nepal to Sri Lanka, hands pressed together with fingers pointed skyward is a gesture of respect and greeting. In India, the gesture is often accompanied by the word namasté, meaning anything from "the entire universe resides within you" to "I recognize that we are all equal," depending on the source.
Whatever the exact meaning of namasté, the intent is obviously warm and welcoming. It's exactly the sort of mood people say they've found at KhushDC, the metro area's "social, support and political group" for GLBT South Asians, whose name translates to "happy" or "gay" in Hindi.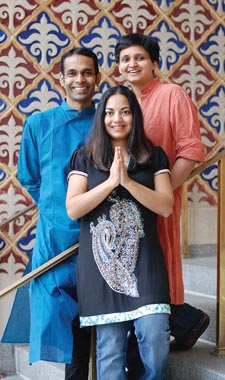 KhushDC
"I'd noticed that most of my gay friends were non-Indian, so I wanted to reach out and meet some LGBT Indians," says Daniel Phoenix Singh, known locally for the Dakshina/Daniel Phoenix Singh Dance Company. Singh, 35, moved to the area from India when he was a teenager. "I missed having a way to share my sexuality and culture. It was a very welcoming group. This is a place where all my parts come together."
Today, KhushDC is preparing for an event to mark Women's History Month, which group leaders say they hope will further demonstrate the inclusive and welcoming space they offer not only to GLBT South Asians, but to all. Saturday, March 29, will mark the group's second annual Women's History Month celebration, this year with a panel titled "Dancing at the Intersections: Understanding Gender Variance in South Asian LGBTQ Communities," a performance, the group's signature Jalwa dance party and an Indian dinner.
"I'm definitely very excited about it," says Amy Shah, a KhushDC board member. "We had a large turnout last year, people from all over the East Coast. We're hoping for about a hundred people. We're focusing on the transgender community. I think it's good we're celebrating the transgender community."
And as the community grows, there's no reason not to expect a larger crowd, and ever-larger crowds in the future. After all, South Asian Americans Leading Together (SAALT), notes that U.S. census data show that "with a population of more than 2 million people, South Asians comprise the fastest growing Asian-American group in the United States between 1990 and 2000."

The South Asian community is generally considered to be those who claim ancestry from Bangladesh, Bhutan, Pakistan, India, the Maldives, Nepal or Sri Lanka. In the Baltimore-D.C. area, one of the top five metropolitan areas South Asians in the United States call home, there are roughly — depending on which counties are included — 100,000 Asian Indians alone. That could mean more than 10,000 South Asian gays and lesbians in the area. Still, it was not so long ago that finding GLBT community with fellow South Asians in Washington was, to say the least, challenging.
"It was very rare to see a gay South Asian out and about, which contrasts so sharply with what you see today," remembers Atul Garg, who with Yassir Islam, founded KhushDC. "Today, you see so many. People today are a lot more in touch with each other. That's not to say that there aren't people still struggling. There are people who were born here who still face pressure to get married and have kids, but it's great to see so many people who are out and comfortable."
KhushDC's origins, says Garg, date back to 1994, when he went up to New York to join the South Asian Lesbian and Gay Association in New York (SALGA-NYC) in marking the 25th anniversary of the Stonewall Riots. There, he says, he met GLBT South Asians from all over the country, including Yassir Islam, also from the D.C. area. Together, says Garg, they concluded that if New York, Los Angeles, Chicago and San Francisco had strong GLBT South Asian organizations, it was time to add D.C. to the list.
"It was crazy that D.C. didn't have a group," says Garg.
The new group had its first meeting at Luna Books on P Street in August of 1994.
"A couple people showed up, and the group just got bigger. To think that was way back in '94, it's really amazing that it's still around."

As the group prepares to celebrate Women's History Month, a substantial commitment of resources for a group that has yet to graduate to the level of 501(c)(3) tax-exempt status, it's notable that KhushDC has not long been identified as enjoying gender parity. Demographically, KhushDC has been primarily Indian and primarily male.
"It was mostly men," says Shiva Subbaraman, who has been involved with KhushDC for about a decade. "It has remained fairly male-dominated for a number of reasons. I was the only woman in the group for a long time. We have worked very hard to bring women into the group."
Subbaraman, who at 52 happily claims the mantle of "community elder," is also the primary organizer of the upcoming panel on gender, which will bring in speakers and performers from around the country.
"I felt we needed to start having some voice in the local community. One way to do that was to start having programmatic events. I've done workshops around immigration, career issues. Last year was the first time we did something around women's history month. Many of us felt the work of women in this community often goes un-remarked upon. What was really important for me was that it was not all South Asian gay folks.
"The reason I chose 'gender variance' — people are asking why a transgender theme around women's history — is you cannot understand sexuality without understanding gender. I felt it was really important how we South Asians understand gender variance."
The self-named D'Lo, from the Los Angeles area, will be one of the gender-variance panelists as well as a performer for the event. She — or he, it's entirely up to you — is the living, breathing reality of much this planned panel discussion.
"I identify as gay. I never said 'lesbian' or 'queer,"' D'Lo shares, while admitting that she made an effort while in college to "femme out." It didn't work. What has worked, however, is D'Lo's embrace of both the feminine and the masculine.
"I've never identified as a trans man, but I identify under the umbrella of transgender," she says. "I see myself as embodying the duality of masculine and feminine energy, what Hindus call the Shiva-Shakti. How can I ask people to refer to me as only one or the other?"
Bridging these identities doesn't stop with the masculine and feminine, D'Lo adds, explaining that she dubs her performance gay Hindu hip-hop. Within the community of her extended Sri Lankan family, this blend has worked both to her advantage and disadvantage. On one hand, she laments that within this community, men and women are defined strictly, with little blurring of roles. On the other, D'Lo has made her own niche in the community: "I don't have to serve the 'aunties and uncles' food, because they feel my energy is more masculine," she says with a laugh.
"I was raised in a very traditional Hindu family. I feel like being Sri Lankan — not necessarily South Asian — comes out in everything I do. … My body, my vessel, is trying to hold all these identities."

Balancing, juggling or embracing multiple identities is a common topic when trying to get to know members of KhushDC. There is quite a bit of variance between people born and raised in the United States, versus those who immigrated here, but there is also quite a bit of similarity, especially when it comes to what is regarded as the value South Asians place on family. That value seems especially dear when Amy Shah shares some of her story.
Shah, 32, said she was 24 when she first accepted herself and came out. A Chicago native who moved to D.C. in 2001, she's now a KhurshDC board member.
"I came out to my parents when I was maybe 27. That coincided with the time females are supposed to get married. My parents were introducing me to a lot of guys. I was dating women at the time, but I hadn't told them."
While she kept her secret, her parents, family and even close friends were setting her up to meet potential husbands — and the combined efforts of that "large, strong community" convinced her that she needed to come out. It wasn't easy, at least in the short term.
"My mom cried for two weeks straight," says Shah, although her family eventually embraced her and her partner.
"They ended up throwing me a huge wedding."
That wedding ceremony, which Shah describes as a fusion — her partner is Christian — was full of representations of her Indian family.
"My dad gave speeches. My brother and sister-in-law surprised us with a Hindi song and dance."
Shah's parents invited their own friends to celebrate with them, showing a reach of family and culture that she says is the great thing about the community: "I feel like you'll never be disowned."
Not that she takes the situations of others lightly, or her own for granted.
"I think I'm luckier than most, especially [compared] with first-generation [immigrants]. They're slightly out, but the family doesn't accept it. But in terms of people born and raised here, I still think I'm on the luckier end."
For Divya Rajan, current KhushDC president, the group has served as something of a surrogate family, as most of her biological family is in India. First joining Khush Girls in 2005, a former off-shoot of KhushDC, Rajan found the sort of acceptance Shah likely felt at her wedding.
"I'd never really been in a space that was South Asian and queer," Rajan, 28, says of her foray into Khush Girls after coming out in her early twenties when she moved to D.C. in 2005. Before that, she felt she had to maintain the appearance of a "straight" lifestyle.
"It was a really powerful experience for me. I got the courage to say, 'Hey, I can actually live like this,"' she says. "Khush Girls was extremely empowering — just the fact that I knew these women existed, leading perfectly happy lives."
That kicked off a big coming out process for Rajan, from co-workers to family. It hasn't necessarily been smooth, especially with her mother.
"She still thinks it's a phase, but I think she's more accepting now," says Rajan. "It doesn't mean she's happy about it, but the pressure has gone down."
Empowering other GLBT South Asians, providing them a safe space, is KhushDC's raison d'etre says Singh, whose "very strongly Christian" family had a tough time dealing with his sexual orientation.
"When people from South Asian backgrounds come out, figure out how to talk to their parents, there is a community who has gone through it," says Singh, noting that the creation of a network of families and friends, can help others in the present and future.
"It's good for other people to see us. There is something both for people born in India and those raised here. There is a cultural connection that's part of our sexuality in different ways. It's very affirming."
KhushDC's Women's History Month celebration begins at 6:30 p.m., Saturday, March 29, at RnR Lounge, 717 Sixth St. NW. Tickets for the panel, performance and dinner are $20. Tickets for the Jalwa dance party are $20. A ticket for both is $35. For tickets or more information about KhushDC, go to www.khushdc.org.