Sometimes a story about a girl born with a pig's face is just that: a story about a girl born with a pig's face. And sometimes it's more.
In the case of Penelope, a modern day parable starring Christina Ricci as said pig-faced girl, the more never really arrives. The movie aspires to be one of those cute, quirky romantic comedies, the kind with a "Once Upon a Time" affixed to the front and a huge honkin' moral slapped on the back, but it's so sloppily strewn together that it never quite congeals. It's like Babe without the magic, or Beauty and the Beast without the romantic rush.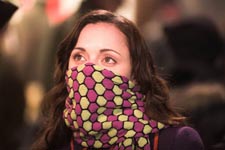 Ricci as 'Penelope'
The blame for this pigsty lies entirely with director Mark Palansky, who loses control of his movie as it grunts along. The first half hour or so seems marginally competent, as we are introduced to Penelope Wilhern and her porcine plight. A curse was put on Penelope's blue-blood British family years ago by an old witch, retaliating for the rejection of her own servant-girl daughter by a Wilhern cad. The curse dictates the first girl born into the family will sport a pig's snout and ears, and it won't be broken until the day she's accepted by one of her own kind, which doesn't mean another pig-faced person but rather an upper-crust suitor offering marriage. You know, someone like Prince Harry.
Penelope's mother Jessica (Catherine O'Hara on ludicrous overdrive) hides her daughter away until the girl is 18 and then brings on the men. Who promptly leave — usually by flinging themselves out the nearest window — when they catch a glimpse of pig-girl.
Truth is, Penelope isn't THAT horrible to look at. Christina Ricci's radiant beauty — especially her brown, soulful eyes — shines through the character. She's less a monster than an aberration.
In any case, the overly-complicated plot unearths for Penelope a love interest in Max (James McAvoy), a young blue blood who has squandered his inheritance and who needs money for his gambling addiction. Yet only he sees Penelope for what she is — a nice, remarkably well-adjusted girl with a snout. But circumstances — and absurd ones at that — conspire to keep them apart until the movie's end.
The movie seriously deteriorates when Penelope, the lower half of her face concealed by a scarf, ventures out into the real world — which in this movie is depicted as a fanciful cross between London and Manhattan — and learns how to win friends and influence people. She befriends a Vespa-scooting courier named Annie, who talks tough and likely deals meth on the side. Reese Witherspoon brings only the barest minimum to the role, as though her body was present but her mind was far, far away, starring in yet another sequel to Legally Blonde.
PENELOPE

Starring Christina Ricci, James McAvoy
Rated PG
101 Minutes
Area Theaters
Penelope is eventually revealed to the world and is embraced with gusto. (All those men who flung themselves out the window? They were a tad overreacting.) She becomes a beloved celebrity. And, well, the rest of the story plays out with an obviousness that would insult a three-month-old fetus. Will the curse be broken? Will Penelope's mother calm down? Will Penelope ever reconnect with Max, her one true love?
These questions and other idiotic questions raised by the movie are answered in the most cumbersome fashion imaginable. Director Palansky finds himself way over his head in pig-slop from which he or Penelope cannot seem to emerge. It's a fractured fairy tale, all right, the key word being "fractured."
Those who'd consider Penelope the perfect family outing — as did the woman sitting beside me with her two very young children — might think again. The movie — with its allusions to poker, smoking, drinking (Max is a drunk and a gambling addict), prison — is much too adult-oriented for small fry. But it's too infantile for anyone older than the age of eight. And my guess is that eight-year-olds would find it dull beyond all measure.
So Penelope isn't really suitable for anyone. It's a boar.
From YouTube: Penelope Trailer