There's no predicting March weather. Spring starts March 21, but that could mean prematurely balmy weather or a late-season blizzard.
And while that may mean it's too early to start planting flowers and watering your lawn just yet, local gardening experts say it's the perfect time to prepare your soil by cleaning up.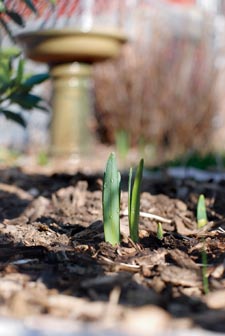 Daffodils rising
"There's a few things you could do as far as preparing your garden, " says David Yost, a plant specialist from Merrifield Garden Center in Fairfax. "This is a good time to be doing any pruning, going in and cutting and shaping things that might have gotten broken or damaged over the winter, if you need to."
Greg Autry, from Johnson's Florist and Garden Centers in Northwest, says that as the temperature rises, it's a good time to start mulching, a process of pouring bark or shredded mulch around the tips of plants for basic protection.
Some flowers are ready to face the cold, however, including pansies, violas and snap dragons.
"These are flowers that will tolerate cold weather," says Yost. "It's a nice way to start the spring."
There are some differences between gardens in the city and those in more suburban areas.
"It's going to be warmer [in D.C.]," says Merrifield's Yost. "You can start earlier than north or east of the beltway. While certain flowers are okay in D.C. in March, you'd still want to wait until April if you're in Rockville or Gaithersburg."
Most people have larger gardens out in the suburbs, while city dwellers have "little postage stamp gardens," and Yost says that means people in the city garden on a much smaller scale.
"Container gardens become extremely popular," he says. "So your gardening may consist of pots and planters on the deck or patio."
Frank Asher, a D.C. resident who owns and operates Fairies' Crossing, says it's too early and too cold to plant flowers in those pots, and instead suggests "pre-chilled" bulbs, which can handle cooler weather.
"If you have a container garden, you can buy packets of bulbs — daffodil bulbs, tulip bulbs — that have already been chilled for the winter," Asher says. "You then transplant the bulbs into the pots so that they will start growing."
There are challenges in maintaining container gardens, notes Yost.
"Because you're dealing with such a limited amount of soil, they tend to dry out faster than plants in the ground," he says. "So you want to use as large a container as makes sense, just so you can have a greater volume of soil."
Yost also suggests using "Soil Moist," a polymer that you can blend with the potting soil that absorbs water like a sponge and releases it at a slower rate. "That can make watering easier," he says.