"There is no more Hollywood," bemoans screen legend Debbie Reynolds. "It's a sign on a hill but there are no more studios, no more heads of studios. That's a life gone past that's going to stay in the past."
Reynolds, who appears this weekend at the Lyric Opera House in Baltimore as the host of Simply Ballroom, a show celebrating championship-level ballroom dancing, doesn't mince words when it comes to today's movies.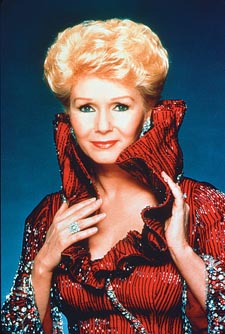 Debbie Reynolds
"I miss happiness. I miss a tender story," she says. "They mostly make epic pictures or action pictures today, which is not my cup of tea."
Reynolds has been connected to gays for most of her life. "I have an act I've done since the '60s," she explains, "which required young men to work for me [as dancers]. All became friends. One out of every nine were straight. The other eight were gay."
She recalls that during Hollywood's Golden Era if a gay actor came out, his "career was over…. [The studio heads] were all very strict about homosexuals not being leading men."
Still, that didn't stop some leading men from fraternizing with gay men. Reynolds recalls that actor Hugh O'Brian, well-known for his screen portrayals of Wyatt Earp, "was straight but most of his buddies were gay. They were stunt men, really rough and ready guys. But in those days you couldn't speak of it."
She pauses and then ponders, "Maybe when they all got together they talked to each other about it."
Reynolds also recounts a brief fling with a young Tab Hunter, who came out in 2005.
"He wanted to be my boyfriend," says Reynolds. "And I said to him, 'Well, Tab, I don't think you're really that attracted to me. I just feel like we're a brother and a sister.' And he said, 'I don't want to be your brother — I really want to be considered one of the guys.' He wanted to feel what the woman needed, but he didn't really know. At that time, he hadn't come out nor did he date men. He was finding his way."
Simply Ballroom runs Friday, March 7, at 8 p.m. and Saturday, March 8, at 2 and 8 p.m. At the Lyric Opera House in Baltimore. Tickets are $45-$65. Call 202-397-SEAT or visit www.ticketmaster.com.
From YouTube: Debbie Reynolds (photo retrospective)