There was no body to mourn inside the meeting room of the Charles Sumner School in Northwest last Thursday, Feb. 28. But for the crowd of about 40 who attended "Before the Ballpark: Remembering What We Had in SE," organized by the Rainbow History Project, the event played out much like a funeral.
Attendees mourned the loss of a string of GLBT-oriented businesses, once housed in Southeast, that were forced to close nearly two years ago, to make way for the city's baseball stadium.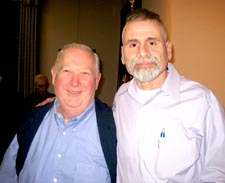 Rizzi and Crowetz
"This part of town goes all the way back to the beginnings of a gay community in D.C.," said Rainbow History's Mark Meinke, discussing the 1970s. "That's when people were parading around saying, 'Out of the closets, into the streets.' That's when we began to have areas that were identifiably gay. And for 36 years O Street, Half Street, K Street, L Street, M Street [in Southeast], were a main social area for this community.
"Being there connects with our experience with the AIDS epidemic, with the bad old days of our relationship with the Police Department…, with the experience of having to go all the way down by the Anacostia in Southeast to have a place to hang out."
Meinke also shared a passage from All I Could Bare: My Life in the Strip Clubs of Gay Washington D.C. by Craig Seymour, a former stripper who is now an English professor at the University of Massachusetts, Dartmouth. The book, which chronicles Seymour's experiences in the Southeast businesses, will be released on June 17.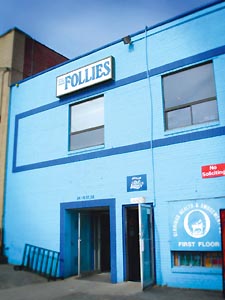 Former Follies Club building
Carl Rizzi and Marty Crowetz who sat on a panel during Thursday's event, were also present during those early days.
Rizzi, president of the Academy of Washington, who has been performing in drag since 1965 and is well-known as "Mame Dennis," shared pictures and talked about the evolution of one establishment, Club 55, and the extravagant drag shows he would often take part in.
"I literally always had to take a week off from work," Rizzi said, "because I could not go in drag, have a few drinks, do a show, and then get up the next day and go to work. The makeup just didn't come off that quick."
Crowetz, a former Marine who managed Follies with Bill Oates Jr., and was involved with several other establishments in the area, talked about how he met Oates, who asked him to help build Follies, and some of the tragic events and struggles that soon followed, including a fire on Oct. 24, 1977.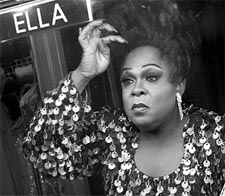 Robinson as Ella Fitzgerald
[file photo]
"A gas heater in the stairwell exploded and nine people lost their lives [from smoke inhalation]," Crowetz said. "That was very tragic. Unfortunately there was a lot of stupid media people in the city those days, and the Washington Star [had] a big article: 'Homosexual fire kills nine."'
Crowetz was also known among patrons for forming Gay Ex-Marines.
"There was a group of us that were all former Marines, and we decided since we couldn't get police to come down there and do security, that we would do it. So I had a wonderful German shepard by the name of Bingo, that was a police dog. We would patrol the streets and keep everybody from getting mugged, and cars from being broken in."
Donnell Robinson — perhaps best known as "Ella Fitzgerald" — performed at Ziegfeld's/Secrets. Thursday's event was a time for him to remember the friends who died from AIDS during the 1980s.
"We lost so many people," Robinson said. "I mean we went to funerals like every week. It just got the point where you couldn't cry anymore."
Crowetz recalled how badly the police and medical professionals reacted to AIDS within the gay community.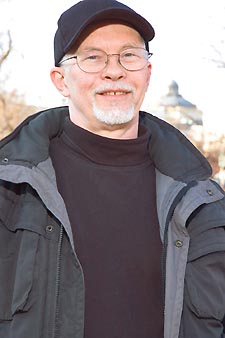 Meinke
"They treated the gay community pretty bad," he said. "When AIDS hit, nobody had any compassion. I remember when people would get hurt in the [Follies]…they wouldn't do anything. They wanted us to bring them down…. They wouldn't touch us. They were afraid of us. Scared to death that somebody was going to get something. And when we hired the police to protect us, what did they do? Unfortunately they took names and license plate numbers and started blackmailing people who they knew had money."
Meinke recalls a chant popular among patrons at that time — "Hey, hey, ho, ho, your shoes and gloves do not go!" — referring to the yellow gloves that police officers wore when handling those who were injured.
For Crowetz, it was difficult fighting opposition from within the community, including criticism from Leonard Matlovich, popular for attempting to continue to serve in the United States Air Force after coming out. Matlovich advocated in favor of closing the Club Baths.
"Everybody was assuming that anything connected with gay was sex, " recalled Crowetz, "so we're sitting there talking about this, and Matlovich was, 'This is where AIDS is running rampant in these clubs and we need to close them.' And we were like, 'Wait a minute. What are you talking about? We fought for you, and now you're going to give up on us, and not allow us to fight?'
"We were trying to do whatever we could to help the community, " Crowetz continued, "so that we'd all be able to carry on. But boy we just got fought all along the way."
For a timeline of events, and more details about the venues that are no longer operating in Southeast, visit www.rainbowhistory.org.