It was like a bad case of déjà vu.
Walking into the Metropolitan Community Church of Washington, D.C. (MCCDC) on a Saturday morning only to be greeted with tales of bullet holes piercing and cracking parts of the building's glass structure — it was not an entirely new experience for Rev. Mark Byrd.
"We had a similar incident that happened about four months ago where windows were broken," Byrd says of the predominately GLBT congregation in D.C.'s Shaw neighborhood.
That incident happened overnight, when the MCCDC was empty, and resulted in damages that cost the church nearly $2,500 to repair.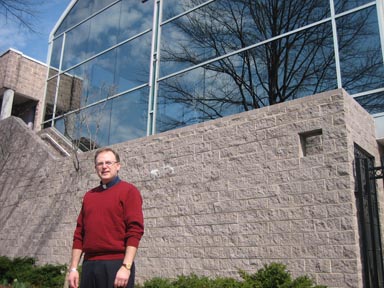 This time, the damages, which are not covered by insurance due to the building's glass design, according to Byrd, will cost about $6,000 to fix.
"We will be taking it out of our general offering money or reserves that we have for contingency to take care of regular building maintenance," Byrd says. "It certainly will take away funds that we would have been able to use in other areas of ministry."
The potential for harm was also greater this time, because there were people inside the building when the shootings occurred shortly before 8 p.m. on Friday, March 7.
"That's a concern," Byrd says.
The crowd of about 20 people inside the building during the shooting had gathered in a circle in the semi-glass room — the Sanctuary — for Lenten study, just before the shots were fired.
Among the participants was Kareem Murphy, a resident of Silver Spring, who says that while it was "scary," it didn't result in a "chaotic moment."
"All of us immediately looked up to the window and we could definitely hear where the bullets were hitting," he says.
"Most of us got up and walked away. A couple of people got on the ground, and they were concerned," he says, because of recent news reports of increased crime in the neighborhood.
"There's just been a lot of gun fire and gun activity in our neighborhood so I didn't know if they were aimed at our church…or whether they were stray bullets," he says. "I was scared, but found a way to remain calm in all of it, as did most people."
Some are concerned that the bullets were neither stray nor random, because this is the second time it's happened. While there are no rainbow flags or signs outside of the church to promote its gay-inclusiveness, MCCDC has been housed at 474 Ridge St. NW for 15 years, Byrd says, and in that time has built a reputation for being a predominantly GLBT congregation.
"I'd like to think that it's not targeted at us because of us being a predominantly gay and lesbian congregation," says Byrd. "But we're also not naïve. We live in a realistic world."
According to Byrd, police have so far found no bullet casings in the area and have not made any arrests.
When news about the bullet holes at MCCDC surfaced, members questioned whether it was related to similar occurrences at other GLBT-related venues, including Longview Gallery, a gay-owned gallery also in Shaw. There was also a late-February shooting at a downtown building that houses a handful of GLBT-related organizations, including the National Center for Transgender Equality, at 1325 Massachusetts Ave.
Sgt. Tania Bell, head of the Metropolitan Police Department's Gay and Lesbian Liaison Center (GLLU), says shots being fired at buildings in D.C. are a rarity, but she does not have any reason to believe that any of these recent cases are related or targeting the GLBT community.
"In recent weeks there has been a lot of violence, but at this time I don't have reason to believe that they're targeting a [specific group]," Bell says.
Drew Porterfield, manager of Longview Gallery, agrees with Bell's assessment. He says the bullet hole they discovered at the gallery was found almost a year ago, and not recently, despite various news reports.
"We kind of think it's funny that it's being talked about," Porterfield says. "It happened almost a year ago and I wouldn't even describe it as a 'shooting at the gallery'.
"We came in one morning, and at some point late in the night, there must have been something going on at the gas station across the street, and it was just a stray bullet that ended up in the side of our building," he says. "We've had no issues. Not even so much as a dirty look where we are."
The GLLU is currently assisting with the investigation of the shootings at MCCDC, according to Bell. In the meantime, Murphy says he will still attend MCCDC services regularly.
"I'm scared about it," he admits, "but I'm going to keep going there and I'm not going to stop. I'd like to think that everybody is comfortable enough to continue worshipping there."