Kaki King says celebrated producer Malcolm Burn gave her the following instruction as they began work on Dreaming of Revenge (




): "If someone can't be sawing a log in half and whistling along to the song, I don't want it on the record."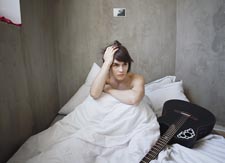 Kaki King
It's an odd, countrified request to be sure, but one that goes a long way toward explaining why King's fourth album is far and away her best yet. On previous albums, one marveled at King's gorgeous, often percussive guitar skills. King is, after all, the first-ever woman to make Rolling Stone's "Guitar God" list. On previous albums one also appreciated how she executed her thematic ideas. But now her melodies get stuck in your head, and you find yourself humming her tunes long after playback. With any luck, this album will ensure you won't just know her as a guest guitarist for Tegan & Sara and the Foo Fighters, or as a composer for films including Into The Wild and August Rush.
King, 28, a native of Atlanta, got her start strumming in New York subway stations. Her first two albums were acoustic, mostly instrumental affairs. Not even two years ago King released her third album, …Until We Felt Red, which was the first to incorporate electric guitar and other dynamic instrumentation with other musicians on board. On "Gay Sons of Lesbian Mothers," King plucked the pedal steel guitar to create a lilting melody that swayed like something you might expect from a lesbian's gay son reared on spirited folk who actually prefers moody electronica.
On Dreaming of Revenge, she serves up more to please the electronica demographic, as several instrumentals seem inspired by French electronica orbiters Air. These include the sweetly pained "Sad American" and "So Much for So Little." But the new album is more distinguished by virtue of King putting lyrical pen to paper and fragile voice to microphone, something that she did only intermittently before. Half the songs here feature King singing. And though she says she doesn't particularly like lyric-writing because she doesn't usually have much to say, her lyrics are often as cerebral and subtly powerful as her music. The album's title stems from the touching track "Life Being What It is," one of several break-up songs. "Life being what it is, we all dream of revenge," King sings. "Open your eyes for a second, just to roll them at me." On the eccentrically titled and structured "Saving Days in a Frozen Head," she repeatedly floats the phrase, "I don't wanna go, but I can't say I've had a good time, doing anything."
Chances are good you'll be repeating that resonating phrase over and over.
Advertisement

| | | |
| --- | --- | --- |
| Missy Higgins: On a Clear Night | Kathleen Edwards: Asking for Flowers | Kaki King: Dreaming of Revenge |
In 2005, the Australian artist Missy Higgins released her debut, The Sound of White, stateside. Frankly, to my ears it sounded too much like a pale imitation of what had come before, from Sarah McLachlan to Norah Jones to Vanessa Carlton. Repeated listens failed to leave a favorable impression, certainly nothing near what she achieved in her homeland, where Sound of White was a bestseller and Higgins, a recognized celebrity.
Now comes the sophomore effort, On A Clear Night (



), and our impression has changed. The 24-year-old Higgins displays markedly improved songwriting skills, with a sharper sense of catchy melody and passion. Producer Mitchell Froom, noted for his work with Elvis Costello and Crowded House, deserves much of the credit. He beefs up the rhythm section and ratchets up the guitars, and Higgins thanks him in the liner notes for "teaching me the art behind a simple melody." His work has already helped her gain more attention stateside. Dramatic first single "Where I Stood" has been featured on several TV shows, including Grey's Anatomy.
Higgins still refuses to label her sexuality: She prefers to "leave it up to the universe and how I feel at any moment in time." But she acknowledges that her lyrics draw from "relationships she's had with both genders."
If only relationships were as cut and dry as the matter of the genders involved. On the bluesy "Peachy," Higgins expresses doubt about her own feelings as well as those of her ex over the decision to break up. "It's nobody's fault, that I fell on you, and you on me," she sings. "That's what humans do, then they pass on through." Sounds reasonable, though Higgins isn't quite ready to accept that fate. So she coyly asks her ex whether he or she would like to get back together. The answer? "No, of course you don't, of course you don't. You say life is peachy, without me."
Whether it's true, at least, at last, Higgins gives us a peach of a song, and an album, to enjoy.