In a recent metro-area school production of Don Quixote, parents were shocked and dismayed when teenage members of the audience greeted a fellow classmate's performance with heckles and laughter. It wasn't the boy's singing or acting that drew the jeers (he was, in fact, very good), it was that he had been deemed "too fat" by his peers. It was, to use the in-vogue phrase, a "teachable moment."
But who will be doing the teaching?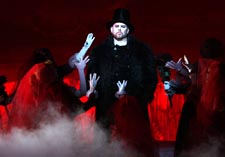 Flash forward to the Washington National Opera's opening night of Wagner's The Flying Dutchman, performed for an audience as urbane and sophisticated as one is likely to get in the nation's capital. An audience that no doubt contained parents and grandparents who pride themselves on the mores and manners they no doubt assume they are passing to their privileged young.
Imagine then how disturbing it was to witness so many within this supposedly erudite cohort mocking a performer for the same ignorant and cruel reasons as that gaggle of unruly teens. True, they were not as loud, but in the context of a world-class operatic performance it was a disgrace. And the object of their derision? The magnificent soprano Jennifer Wilson in the role of Senta. It didn't matter to them that Wilson had already demonstrated her sublime vocal skill and her subtle and intelligent acting — when Senta's father sang of her female beauty they just couldn't contain the quiet storm of sniggers and whispers.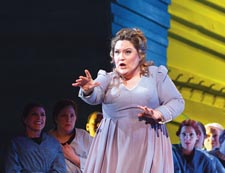 How could such crass behavior occur in a crowd paying top-dollar to hear a Wagnerian soprano? Did these ladies and gentlemen forget they were at a live performance, so accustomed are they to gossiping about each other over lunch? Did they just not care? Could they be so saturated with Eddie Murphy's Norbit fat-jokes and the over-plucked glistening flesh paraded before The Bachelor as to have become mere snuffling moles, utterly blind to true human beauty? Perhaps the requisite hush would have prevailed if it were Spitzer's call-girl in the role. She claims to be a singer, after all.
And so to the production itself. Although a relatively short opera, Flying Dutchman is not for the novice. In typical Wagnerian fashion, we are thrust into a dark and obtuse tale in which otherworldly forces collide and mingle with mortal souls. Thus we meet the Flying Dutchman, damned to sail the seas until he finds a faithful wife, and the captain's daughter, Senta, for whom the legend comes to life. It may sound succinct in a summary, but delivered via Wagner's lugubrious and sometimes obtuse approach, it is at times quite hard to follow.
Unfortunately, matters are not helped by director Stephen Lawless, who has been unable to bring clarity or cohesion. Although the three strongest singers, Wilson, Alan Held and Ian Storey, are given space enough to generate a sense of character and emotion, the rest of the production leaves much to be desired. Sea-faring scenes are heavy on illusion but weakly staged. Sets that nicely evoke the folksy feel of wood-cut illustrations lose their subtlety to cumbersome props including a giant seagull wing that appears with Pythonesque absurdity. The chorus seems uncharacteristically uncomfortable with the German, the crowd scenes over-choreographed. Overall, the evening feels under-rehearsed.
THE FLYING DUTCHMAN
March 20, 25, 30
April 2, 5, 7, 10
Kennedy Center
Opera House
202-295-2400
www.dc-opera.org
And yet, despite these shortcomings, the core ensemble deliver wonderful performances. Wilson sings with such delicate and rich beauty, she enchants her every scene, most especially during her aria in which she sings the Dutchman's ballad. She is a calm and nuanced actor, inhabiting this young but emotionally deep woman with grace and credibility. (Lori Phillips sings the role April 2 and 7). Held, possessed of an earthy yet sophisticated Wagnerian voice, is superb at The Dutchman. Storey brings much intensity and integrity to the unrequited Erik, while Gidon Saks as Daland, Senta's sea-faring father, is strong vocally and dramatically.
Still, without a tighter, more imaginative concept, this production remains most suitable for those eager for fine Wagnerian singing, less suitable for newcomers to opera. No opera is appropriate for those unable to resist mocking others for "failing" to meet this culture's pathetically narrow and dumbed-down concept of beauty.