Tax season began more than a month ago for those with all the pertinent documents gathered, tax forms filled out and duplicated, taxes paid or refunds deposited.
Then there are the rest of us, some of whom have yet to even glance at their W-2s. And this year, in the District, there is a new wrinkle: Domestic Partner Joint Filing.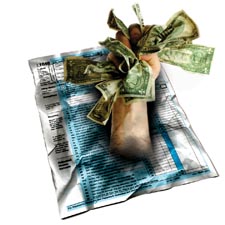 But just as tax season should come as no surprise, neither should this new D.C. tax law, enacted March 14 — of last year. At the time, Metro Weekly ran some numbers for laughs: Our hypothetical D.C. lovebirds made $50,000 apiece, to keep the math nice and simple. Jointly, they owed $928 more than they did filing singly.
As Bob Summersgill testified in 2006 on behalf of the Gay and Lesbian Activists Alliance of Washington, D.C., who supported the change: "Filing taxes jointly is a significant recognition of partners by the government. While actual taxes for couples may go either up or down depending on their circumstances, the symbolic value far outweighs any cost to the couples or the District."
Indeed, with taxes being like snowflakes, some local number-crunchers say there is no obvious flag for who will benefit or not from joint filing. But they're primed to find out.
"I have tax software used by the 'big four,"' boasts CPA Paul M. Beito, referring to America's largest accounting firms, users of ProSystem fx. "I checked and there it is. I've been given instructions on how to prepare a return that features [domestic-partner filing]. This is not TurboTax software. This is very, very sophisticated, thorough and far-reaching."
Beito, who is based in Arlington and estimates about 60 percent of his clients are gay, hasn't had a chance to prepare a domestic partnership's joint filing yet, but says he's fairly certain it will happen soon.
The same goes for Jezzika Lee Perez, a D.C.-based tax preparer, whose Intelligent Accounting & Tax Solutions has a client base that's about 75 percent gay individuals and companies.
"It's still early," says Perez. "Most people will file in the next few weeks. Most of the work will be done in the last half of March and, unfortunately, the first few weeks of April."
Regardless of when they do file, Perez emphasizes that whether domestic-partner taxpayers find the new option tricky or not, it is their responsibility, so they should be careful.
Paul M. Beito, CPA
703-271-0373
Jezzika Lee Perez
Intelligent Accounting & Tax Solutions
202-290-1618
http://jezzikaleeperez.com
Judith M. Tiktin, CPA
301-565-3990
"When you're compiling your D.C. return, you approach the federal return in a different manner. It's kind of technical, but it's not very complicated," she says. "There's some tax-strategy involved, what you should claim or not."
Judith M. Tiktin, a Silver Spring CPA and financial advisor, says, "A tax preparer's problem is, obviously, we can't file jointly for federal taxes, and the D.C. return is based on the federal return. What a couple would have to do is file their individual [federal] returns, then do a dummy-up federal joint return." That dummy return will provide the figures needed for the D.C. partners to file jointly, which is strictly optional. "I'd really have to examine if it is worth it. It might just be more political."
As Tiktin echoes Summergill's sentiment regarding the new rule's meaning to the gay communtiy, so does Perez: "There's also the intangible, non-tax part of it that means more to me than the potential refund, but it really depends on the client."
In short, for those domestic partners registered in the District, joint filing is here for your D.C. taxes. It's a change that may simultaneously be celebrated and ignored, or celebrated and applied. That's between you and your taxes.