Finding her Capitol Hill row house was a dream come true for Santa Lia Jones. Literally.
A native Washingtonian, Jones grew up on the southeast side of Capitol Hill. As a teenager, she admired a small two-story row house across the street from the development where she lived.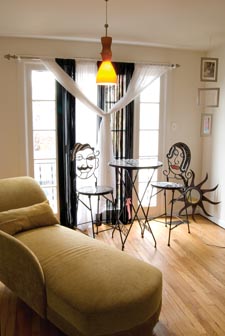 "This older, gay, fabulous man lived in it — he had a grand piano," she says. "I told myself, 'All I ever need in life is a house like that."'
Flash forward two decades to a now-adult Jones, in the search for her first home. Following up on a real-estate listing, she found herself and a friend driving into a familiar neighborhood. Then she realized where she was — and which house she had arrived at.
She burst into tears.
"I knew God had answered my prayers," she says.
Four years after moving in, Jones, 46, has transformed the row house into a unique reflection of her life — as well as the life of her partner, Tam Orebaugh, who will be moving into the home next month. From their home, they'll be able to enjoy a full range of restaurants, stores and other locations that over the past few years have made the area an ever more popular destination. That's a plus for Jones, who says she's never owned a car — she walks to her job at the Library of Congress.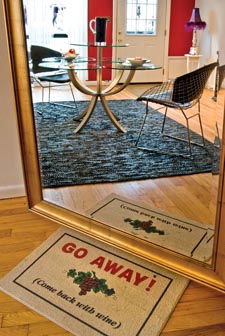 Jones, who also has her own design business, One Room at a Time, says the house didn't require the thorough remodeling that many row houses often do.
"It was in good condition — floors, walls, everything," says Jones. "I just wanted to enhance it a little more."
A major way to enhance is the use of color. For Jones, black and white are her favorite colors, while Orebaugh is a fan of red. From the den at the back of the house looking through the kitchen to the dining room at the front, one sees how Jones incorporated their preferred palettes.
She also upended expectations in where she chose to place her rooms.
"Usually when you enter [a row house], you have the living room. I made that the dining area. I took the love seat and put it in the smaller room [in the back] that leads out into the backyard."
The eclectic mix of furniture and decoration — Jones calls it "contemporary-slash-urban" — includes practical touches such as a large mirror that visually expands the space, as well as bits of whimsy, such as the bistro table with anthropomorphized chairs, a Valentine's gift from Tam.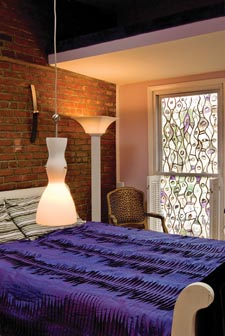 While red, black and white are the prominent colors on the first floor, upstairs in the bedroom a different color takes center stage: purple.
"Purple means royal," says Jones. "It's very relaxing."
An appropriate choice, given that the bedroom, with its exposed brick and skylights, is her favorite place to chill out.
"I love to look up at the moon, the sun, the clouds."
That's not the only place Jones can find relaxation, at least when the weather is warm. The backyard features a fireplace and shower.
"When I get home from work in the summer, I put on my bathing suit and shower in the backyard," she says with a laugh. "It's really refreshing, especially with the right cocktail in hand."