Apparently, cherry blossoms weren't enough. It seems everyone wants his own festival.
The Kennedy Center is spending the month of March cozying up with August Wilson while Signature Theatre launches its Kander & Ebb Celebration. Theatre J is getting into the mix with an Arthur Miller celebration, running in conjunction with Arena Stage's Arthur Miller Festival.
In an iPod universe, the D.C. theater community is settling in with LPs.
If you're waiting for Chita, don't worry, she's coming. But don't wait so long that you miss Signature Theatre's production of Kiss of the Spider Woman with the luminous Natascia Diaz in the title role. Artistic Director Eric Schaeffer — who directs Kiss — continues to be unafraid of making Broadway-scale gestures in the large but not unlimited space offered by The ARK. If you can, grab a seat toward the back of the theater. You're going to need some space to take it all in.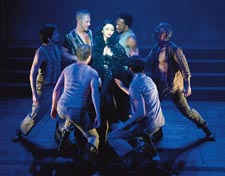 Kiss of the Spider Woman
The story Kiss tells is hardly your standard musical fare. Revolutionary Valentin (Will Chase) is tossed into a Latin American prison cell with Molina, a gay window dresser (Hunter Foster) who has been accused of sexual deviancy. A bond slowly develops between the two as Molina teaches Valentin his secrets for enduring the brutality that surrounds them.
Key to Molina's survival is his encyclopedic memory of the movies of the film star Aurora (Diaz). She is a siren whose glamour and flawless beauty defies the grim reality of the prison.
KISS OF THE SPIDER WOMAN

To April 20
Signature Theatre
$40-$69
703-820-9771
Chase's Valentin is gritty and sexy with a voice that telegraphs itself down your spine. His performance of "The Day After That" is one of those moments to savor after the curtain has gone down. He's matched in power and charismatic stage presence by Diaz, an actress who does not so much move as glide across the stage. She is both picture and pitch perfect as Molina's angel. While she does lovely work with the title song, the number you will remember is "I Do Miracles." Because she does.
Less successful is Foster's Molina, which is largely forgettable. Played with a slim catalog of stock hand gestures, this Molina quickly feels washed out and limited. There are hints of something more behind the ambiguously fey facade, but not enough to break through and grab the audience.
There are also some rough edges with the show's ensemble. Voices come in just early enough that they fuzz the boundaries of some numbers. There are moments in the choreography where it appears not everyone knows precisely where the next mark is. But these are certainly things that will resolve themselves in coming performances.
All things considered, Signature Theatre's production of Kiss of the Spider Woman is a terrific kick-off to the Kander & Ebb Celebration. Schaeffer might not do miracles, but he does outstanding things with musicals.
---
When is it a good idea and when is it a gimmick? Theater J's production of Arthur Miller's The Price stars two brothers playing brothers and also acts as a kind of homecoming for Washington's family Prosky. Helmed by the award-winning actor Robert Prosky, excitement has focused as much on the casting as on the show itself.
THE PRICE

To April 19
Theatre J
$15-$50
800-494-8497
Andrew and John Prosky play estranged brothers who have come to sell the belongings of their long-deceased father to furniture dealer Gregory Solomon (Robert). Victor Franz (Andrew) is a cop who, together with his wife Esther (Leisa Mather), spent the majority of his adult life taking care of his father. Brother Walter (John) is a successful surgeon whose contribution to his father's care was a small once-a-month check.
In some ways an Arthur Miller play is like listening to a high note played on a violin, as in the scores of any number of black-and-white movie thrillers. We are never starting at nothing with Miller. We are building tension on tension until the entire construct threatens to, but never breaks.
On the stage this means that there is a careful line to tread and, in the case of Theater J's production, it is one walked brilliantly by actors John Prosky and Mather. The pair dance back and forth between slow boil and eruption, holding our attention by letting us know they have more to give…just not yet…or yet.
Pater Robert has a genial presence on the stage and appears to be having a great deal of fun playing the sardonic Solomon.
It is only Andrew who leaves the audience wanting something more and the hesitancy of his performance throws some of the scenes completely off balance. There is a lack of nuance to his portrayal, leaving his actions feeling unresolved and undermotivated. Anger and sorrow and frustration all come to the stage wrapped in the same package and that transforms what should be tension into strain.
As it was when it was performed at the Cape May Stage and the Walnut Street Theatre, this Prosky family incarnation of The Price is a good idea. What is needed is that extra something that will transform it from good idea into a great production.