Once again, Woolly Mammoth courageously enters the realm of black-white relations, this time via up-and-coming playwright David Adjmi's new play Stunning. Much like The Unmentionables, Woolly's last offering on American-white stupidity, Stunning owes something to the sitcom genre. Yet unlike Unmentionables, Stunning's comebacks are quicker, the punchlines funnier and the physical comedy a whole lot fresher. Granted, Adjmi does not similarly try to deal with the enormity of global race-relations, but when it comes to the heart of the matter — when what lies beneath begins to surface — he grapples far harder and more effectively with the dirt, ambiguity and wonder of human relations.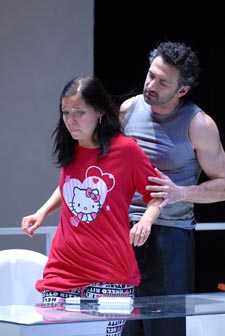 And yet Adjmi's premise is a challenge: He thrusts us into the nouveau riche enclave of Brooklyn-born Syrian Jews and within minutes there comes Blanche, an African-American maid who needs a live-in job. It might all have easily collapsed into hideous cliché; in some ways it would have been more interesting if Adjmi had made the visitor white. Until things begin to complicate, the drama treads uncomfortably close to the growing trend in film and TV to designate one African American per product as all-wise and all-knowing (see Morgan Freeman's latest roles). Thankfully, Adjmi wants it far closer to the bone and he soon injects the uncomfortable and confusing realities of life. Thanks to the superb cast and the highly skilled direction of Anne Kauffman, the result is an intersection of lives so electric you can smell the ozone.
Wonderfully cast in the two leads are Laura Heisler as Lily and Quincy Tyler Bernstine as Blanche. Both deliver such intensity and credibility to their characters, even now it is hard to believe they are not somewhere in the universe still pushing and pulling at one another. Heisler gives remarkable life to Lily, showing us in myriad and subtle ways the inner crisis of this young woman who has been so controlled by her culture. In counterpoint, Blanche has been in her own prisons and Bernstine plays the mystery of the character with great sensitivity and a real outside-the-box creativity. Nothing about Blanche seems predictable. Heisler and Bernstine expertly embrace and then transcend the culture clash with superb comic sensibility as they each gradually begin to reveal the deep emotional ruin underlying their character's lives.
Of course it doesn't hurt at all that Adjmi writes for women in a way that never once devolves into the dead-end chick-lit mentality, which has spread like kudzu over the cultural landscape. In fact, much of the poignancy and humor of this play is how often the women say what the world expects them to say while so obviously feeling something completely different.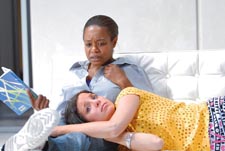 The female supporting cast is also very strong with Gabriela Fernandez-Coffey hilarious as Lily's sister, Shelly, a consummate JAP with a sadistic streak; and Abby Wood playing to great comic effect the small but mood-enhancing role of Claudine. The men were not so overwhelmingly in tune with the material and although the performances were good, there was something in the casting that wasn't quite on the money. Lily's husband Ike is meant to be a much older man, a manipulative and sometimes violent bully. Although Michael Gabriel Goodfriend brings a very convincing and creepy menace to this overlord, he is never quite as believable as the women. This comes out most clearly in his eventual confrontation of Blanche whom he suspects has irrevocably undermined his authority with Lily. The scene is unsettling but nowhere near as devastating as it could have been. Since it serves to explain later events, it's a missed opportunity. Clinton Brandhagen as Ike's brother-in-law brings subtlety to his performance but he too seems slightly out of place in the role.
And these are perhaps the only areas where Kauffman did not fully wield her magic. In every other respect, the evocative choices in segue music (kudos to sound designer Ryan Rumery), the clever but restrained use of the tiered and mirrored set, and the spaces clears for emotional battle, she lights up Adjmi's devastating world.