The District of Columbia Jewish Community Center, better known as the DCJCC — or simply as "The J" for those really in the know — is hitting all the stops, whether you're Jewish or not. Looking like a friendly fortress on the corner of 16th and Q Streets NW, the DCJCC offers the JCC Café, voted best kosher restaurant in D.C., and a full gym to sweat off those fish kefta and Mississippi mud cake. There's film, theater and dance. As the long list goes on, one particular program stands out to the queer eye: GLOE, otherwise known as the Stuart S. Kurlander Program for Gay & Lesbian Outreach and Engagement.
"It's creating this community among queer Jews and their allies," says Justin Lerner, director of GLOE. "It's really unique in that it's getting to a group that hasn't been reached. It might be people who've not set foot in the DCJCC."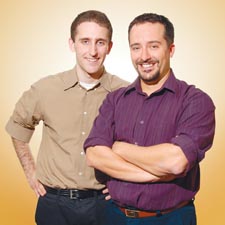 Justin Lerner and Yoni Bock
With a goal of providing cultural, educational, public policy and social programming gay and lesbian Jewish community and beyond, Lerner is a great example of just the sort of person GLOE seeks to engage. Growing up as a gay, Jewish kid in Omaha, Neb., Lerner readily admits, "I had no concept of being gay and Jewish."
That's certainly not the case anymore, as Lerner, who moved to the District in August continues to explore his new home and an identity of being Jewish and gay that's reinforced at his GLOE job daily.
"I just always felt there wasn't a space if you were gay and Jewish," says Lerner. "The space is for everyone. We have people who aren't gay or aren't Jewish. GLOE is welcoming, open-minded — it's community. It's a sense of empowerment for people: It's okay to be who you are."
And while the nearly two-year old GLOE program helps Lerner incorporate his parts into a healthy whole, GLOE is also helping the wider community, leading the way in organizing D.C.'s first Stonewall Seder, a sold-out event held in conjunction with HRC and The Center, that took place last Sunday, March 30.
Yoni Bock, a GLOE committee member says that duplicating the Stonewall Seder concept, which has been successfully executed in other cities, came out of a GLOE meeting a couple months ago when members wondered how to better outreach to the larger community.
"The Seder has relevance beyond the Jewish community," explains Bock. "We took a very Jewish model and turned it into a venue for broader issues. There are Women's Seders all the time. There was a Tibet Seder years ago, applying to another issue of freedom. The Stonewall Seder looks at oppression to freedom."
Before anybody gets too hung up on the timing, Bock says that a Passover Seder such as the March 30 event is appropriate anytime after Purim (March 20-21), the Jewish holiday marking the escape of the Jews from the ancient Persian Empire's Haman and his plot to exterminate them, and up to the formal Passover dates.
And the sold-out crowd of about 60 people was a good indicator that the Stonewall Seder may become an annual event, with Bock noting that a 2009 Seder would coincide with the 40th anniversary of the Stonewall riots — an anniversary of particular importance, considering Moses is said to have led the Israelites through "the wilderness" for 40 years.
"I was very, very pleased with the Seder, the turnout, the way it worked out, and the message: that we have a story to tell."
With the Stonewall Seder providing a modern interpretation of an ancient theme, there's no doubting that Lerner and Bock will both be respecting timeless traditions at traditional Passover Seders later this month. For Lerner, that means going back to Omaha and indulging his father with a trip to his childhood synagogue. For Bock, it means going quite a bit further.
"This year, my partner and I are going to Israel," says Bock, 33, who will be visiting his brother, a rabbinical student, in Jerusalem. "I was last there for Passover in 1993…. Being back there after 15 years will be special."
For more information about GLOE, call (202) 777-3253 or visit www.washingtondcjcc.org/connect/gloe.